Shrimp cocktail al pastor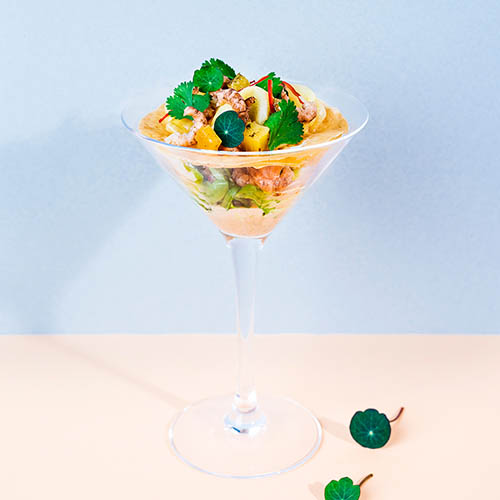 For the cocktail sauce
4 tbsp homemade mayonnaise
1 tbsp mezcal
2 tbsp ketchup
2 tbsp cream a
few drops of chipotle sauce

For the pineapple al pastor
1/2 pineapple
3 cloves of garlic
1 tbsp oregano
1 tbsp ground cumin seeds and black pepper
2 cloves
3 red chilies
50 ml white wine vinegar
50 ml pineapple juice
1 tbsp grape seed oil

For the pico de gallo
1 tomato
few leaves chopped coriander
½ sweet onion
½ red chilli without seeds
1/4 pineapple
juice of 1 lime

For the crispy filo
5 sheets of phyllo/filo dough
3 tbsp clarified butter

A few leaves of lettuce
2 eggs
200g MSC certified shrimps/prawns
1. Half beat the cream. Mix the mayonnaise with the mezcal, ketchup and chipotle sauce. Fold the whipped cream into the cocktail sauce. Keep in the fridge.

2. Preheat the oven to 180° C. Heat the oil in a pan, add the garlic and fry until golden brown. Then add the oregano, cumin, cloves and black pepper. Bake for 30 seconds. Set aside. Fry the red chilies in the same pan. Add the pineapple juice and vinegar and reduce to a slightly thicker mass. Add the garlic mixture to this. Mix until smooth. Cut the pineapple into wedges and mix into the mixed pasta so that every piece is covered with it. Cook in the oven until the pineapple chunks are golden brown caramelized.

3. For the pico de gallo, cut all the vegetables and the pineapple into brunoise. Mix with the juice of the lime and the coriander. Season with salt and pepper.

4. Rub the sheets of phyllo dough with clarified butter. Arrange all the sheets on top of each other and cut out circles with a serving ring that have the same diameter as the glass in which you serve the cocktail (or slightly smaller). Bake the filo circles between two baking trays until nicely browned, about 10 minutes.

5. Boil the eggs for 5 minutes. Cool in cold water.

6. Compose the cocktail: arrange a few leaves of lettuce in each glass. Spoon some pico de gallo and cocktail sauce on top. On top of that, place half an egg and sprinkle with shrimp. Arrange the cubes of pineapple 'al pastor' on top and cover the glass with the crispy filo pastry.
Thank you for subscribing to the newsletter. Look out for delicious sustainable seafood recipes in your inbox soon.
Subscribe to the Simply Seafood Newsletter to receive freshly curated sustainable seafood recipes.
YOUR DATA PROTECTION CONSENT