Smoked wild salmon crostinis, herbed cream cheese and pickled shallots

Recipe By


Charlotte Langley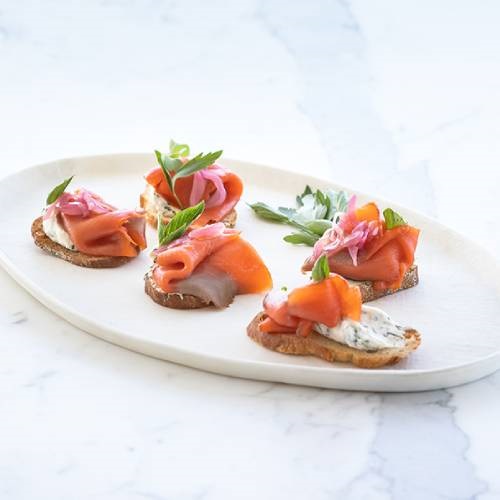 1 package (300g) of MSC certified smoked wild salmon, cut into 24 pieces
454 g cream cheese, room temperature
¼ cup of each fresh tarragon, basil, dill, flat leaf parsley, chopped
24 crostinis from your favourite bakery or grocery store
Zest and juice of one small lemon
Salt
Pickled shallots
2 shallots, sliced into thin rounds
½ cup white wine vinegar
½ cup water
2 tsp honey
2 tsp salt
To the cream cheese add the herbs, lemon zest and juice of half the lemon (to start). Stir until combined. Season with salt to taste. Add lemon juice as needed.
In a small pot, bring the white wine vinegar, water, honey and salt to a boil. in a small pot.
Put the shallots in a heat-proof container and pour the hot liquid over them.
Place in the fridge uncovered. Once cooled they are ready for use. Store covered in the fridge for up to 2 weeks.
Assemble by smearing about 1-2 tsp of cream cheese on each crostini. Top with a slice of smoked salmon and garnish with pickled shallots.
Serve with Nobilo Sauvignon Blanc and enjoy responsibly!
Thank you for subscribing to the newsletter. Look out for delicious sustainable seafood recipes in your inbox soon.
Subscribe to the Simply Seafood Newsletter to receive freshly curated sustainable seafood recipes.
YOUR DATA PROTECTION CONSENT