Smoked wild salmon rillette

Recipe By


Chef Charlotte Langley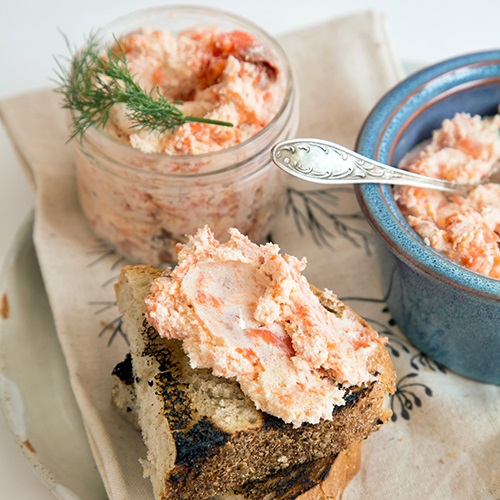 2 lbs MSC certified smoked wild salmon, chopped
1 lb cream cheese at room temperature
½ lb unsalted butter at room temperature
1 tbsp chopped tarragon
1 tbsp chopped dill
juice and zest of 2 lemons
1 tsp fennel seeds, toasted and ground

1. To toast the fennel seeds, place in a small pan on medium heat and toast until the colour goes a little darker and you can smell them. About 5 minutes. Grind using a mortar and pestle or in a spice grinder of your choice.
2. In a stand mixer fitted with the paddle attachment, combine all ingredients and mix until well incorporated. Start slowly and increase speed to medium, mixing for 5 minutes in total.
3. Adjust seasoning with a little salt or more lemon if necessary.
4. Serve with your favourite crackers or crusty bread.
Make ahead
: Can be stored in the fridge for 4-5 days. Remove just what you want to serve 15 minutes ahead to soften slightly.