Smokey clam and corn chowder

Recipe By


Kristen Coffield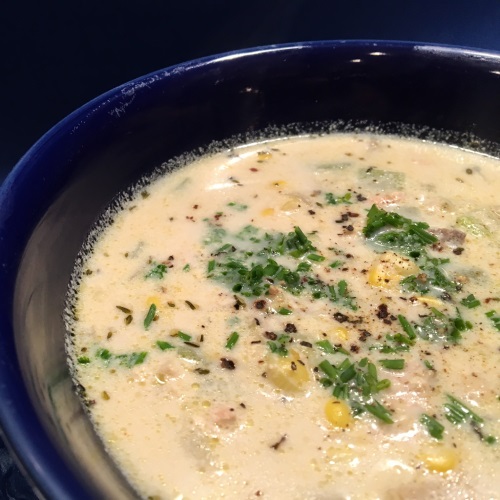 1Tbsp. olive oil
2 leeks, including 2' of green top cleaned and chopped
1 cup celery diced
11/2 cups diced Yukon Gold potatoes
1/2 tsp. fresh or dried thyme
1/4 tsp. ground cayenne pepper
1/2 tsp. smoked paprika
16oz MSC certified sustainable seafood stock
1 8oz MSC certified sustainable seafood clam juice
1 cup half and half
2 6.5 oz tins MSC certified sustainable chopped sea clams with liquid
1 cup of fresh corn off the cob (can use frozen)
Fresh ground pepper to taste
1 tsp. salt
3 Tbsp. fresh chives chopped
1 Tbsp. cream sherry (optional)
In a heavy bottom stock pot add leeks, celery and potatoes and sauté for 5 minutes over medium heat.
Add cayenne, thyme, clam juice, half and half and simmer for 30 minutes.
Add corn and simmer for 5 minutes.
Add clams to the broth and bring to a simmer. Add sherry, smoked paprika and season with salt and fresh, cracked pepper to taste.
Ladle chowder into bowls and garnish with fresh chopped chives.