Sweet curried lobster salad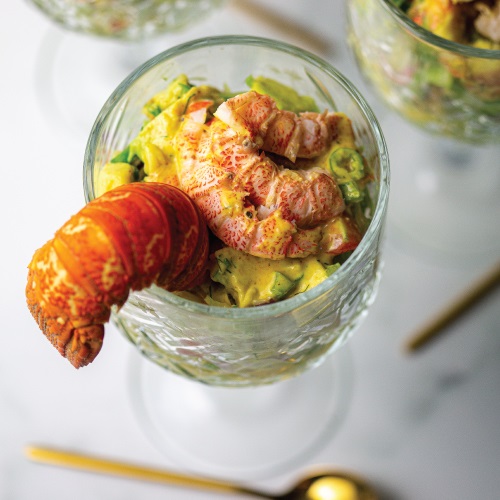 Lobster salad
700g MSC certified lobster tails
Half of an red onion, diced
1 celery stalk, finely chopped
10 cherry tomatoes, quartered
Half of a green pepper, diced
1-2 green chillies, chopped
1 avocado, diced
Shredded lettuce
Dressing
2-3 tbsp. mild curry powder
3 tbsp. brown sugar
2-3 tbsp. boiling water
5 tbsp. Mayonnaise
Juice of half a lemon
Salt and pepper to taste

Bring a large pot of water to a boil. Once the water is boiling, add 3 tablespoons coarse sea salt, then add lobster tails. Cook for 8 to 10 minutes only, then remove from pot and set aside to cool down.
Once the tails have cooled down, cut them open down the centre of the tail and remove the meat. Gently breaking the piece of meat in half will expose the vein which can now be easily removed. Chop roughly and add to the rest of the salad ingredients.
For the dressing, add the curry powder and brown sugar to a mixing bowl. Add the boiling water (just enough to dissolve), then add Mayonnaise, lemon juice, salt & black pepper and combine well.
Combine all salad ingredients except the avocado and lettuce.
Add the lobster and dressing and give it a good stir to get everything coated, then add the avocado. Line a fancy glass with the shredded lettuce and place the salad onto the lettuce. Serve and enjoy!