Thai shrimp curry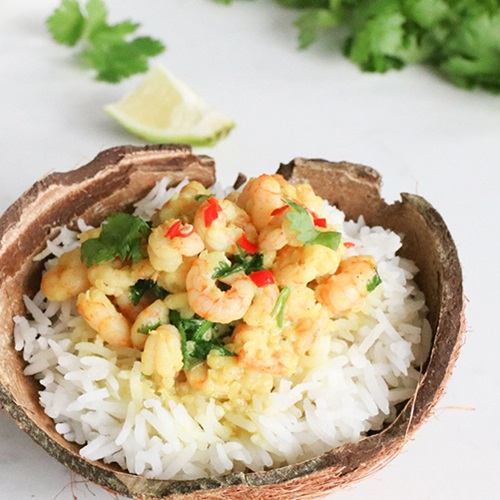 1 package (340 g.) MSC certified Coldwater shrimp (prawns), cooked and frozen
1 tsp sunflower oil
2 tsp sesame seeds
1 tsp garlic
1 cup coconut cream
1/8 tsp turmeric
1 tsp mild curry powder
3/4 tsp salt
½ cup fresh cilantro, chopped
1 tsp lime juice
1 red chilli, finely chopped (optional)
Thaw, drain and pat the shrimp (prawns) dry with paper towel.
Heat oil in pan over medium heat.
Fry sesame seeds and garlic until lightly brown.
Add coconut cream, turmeric, curry powder, salt and simmer for 2 mins.
Add shrimp and warm through for 2 minutes.
Add the lime juice, cilantro and chili (if using).
Serve with rice.
Recipes developed by Shahzadi Devje RD, CDE, MSc. Registered Dietitian & Owner of Desi~licious RD Inc. (www.shahzadidevje.com)