Tomato ricotta tart with roasted cod

Recipe By


Charlotte Langley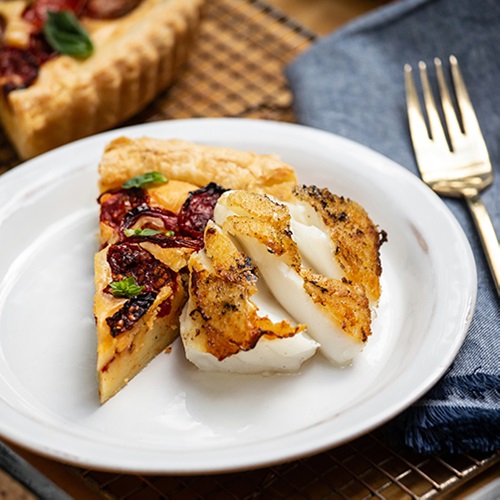 6 4 oz portions of MSC certified cod, patted dry
1 package puff pastry, thawed overnight in the fridge
Filling:
1/4 cup 35% cream
2 cups Ricotta cheese
2 eggs
2 large tomatoes, cut into ½ inch slices
Salt and pepper
Canola oil
Fresh basil to garnish (optional)
1. Line an 8-inch pie plate with parchment paper. Roll out the puff pastry very thinly (about 1/8 inch) and line the pie plate. Run a knife around the edge to cut away excess pastry. Chill in fridge while you assemble the filling.
2. Pre-heat oven to 350°F
3. Season the tomato slices with salt and pepper.
4. In a bowl, whisk together the cream, ricotta, and eggs until smooth.
5. Pour filling into the chilled pie shell and arrange tomatoes in a circular pattern.
6. Bake for 25 minutes. Turn down the heat to 300°F and cook for another 10 minutes. Remove the tart and let cool slightly. Leave the oven on for the cod.
7. In an oven proof frying pan, heat 1-2 tbsp of canola oil to medium high. Season the cod with salt and pepper and sear, presentation side down, for about 4 minutes to form a nice golden crust. Without flipping the fish, place the pan in the oven and roast for another 10-15 minutes depending on the thickness of the fish.
8. Serve a piece of tart with the cod either on top or on the side. Garnish with basil and fresh cracked black pepper.