Tuna, Broccoli & Ricotta Stuffed Pasta Shells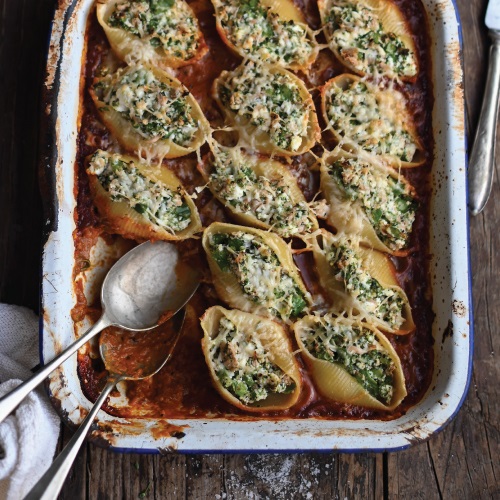 350g conchiglioni
Olive oil
250g fresh ricotta
170g MSC certified light meat tuna shredded in brine
125g tender stem broccoli
Salt and pepper
150ml grated Parmesan
For the roasted tomato sauce:
Olive oil

1kg tomatoes
1 large brown onion, peeled
5ml dried oregano
3 cloves of garlic, crushed
50ml fresh cream
To make the roasted tomato sauce, reheat the oven to 200°C.
Quarter the onion and tomatoes and arrange on a lined baking sheet. Drizzle with olive oil, scatter over the dried oregano and season with salt and pepper.
Roast the tomatoes and onion for 25 minutes or until soft and slightly caramelized. Pour the tomatoes and onion into a blender and blitz until smooth.
Leave to cool slightly and then add in the garlic and cream and blitz again. Season the sauce to taste and reheat in a saucepan when ready to serve.
Steam the broccoli until tender. Leave to cool and finely chop.
Crumble the ricotta into a mixing bowl and add in the chopped broccoli.
Drain the tuna and flake into the bowl. Season with salt and pepper and stir to combine.
For the pasta, set a pot of water to boil. Once boiling, add a glug of olive oil and a shake of salt and cook the conchiglioni until al dente. Drain the pasta and set aside.
Pour the roasted tomato sauce into an ovenproof dish about 5-6cm deep. Carefully fill each pasta shell with the tuna filling and arrange in the sauce until the dish has been filled.
Drizzle over a little extra olive oil and scatter over the grated Parmesan and bake the conchiglioni in a preheated 180°C oven for 10-15 minutes or until the cheese has melted.
Serve the conchiglioni bake with a green salad and garlic bread.