Wild Alaskan cod with fresh herbs and tomatoes

Recipe By


Kristen Coffield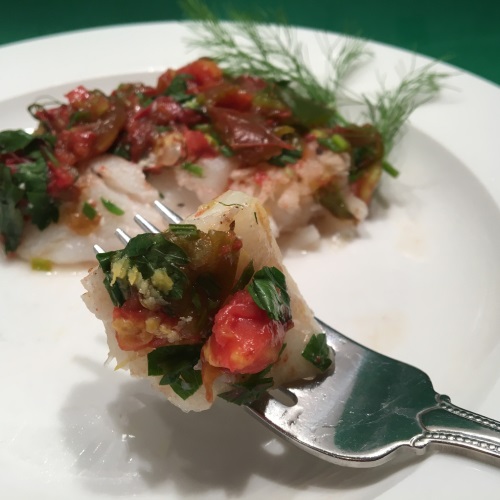 2 4oz packages of MSC certified sustainable wild Alaskan cod, thawed
1 small fresh tomato, seeded, drained and diced
1/2 tsp. grated lemon zest
1/8 cup extra virgin olive oil
1 Tbsp. melted butter
1 shallot chopped
1/4 cup chopped fresh parsley
1/4 cup of your choice of basil, dill, arugula, thyme, tarragon, oregano or chives. Dried herbs work as well — adjust to 1 Tbsp.
Salt and freshly ground pepper
1 Tbsp. of capers or Kalamata olives. (optional)
Preheat oven to 425 degrees.
Tear two 12" squares of heavy duty aluminum foil and spread in a single layer on work surface. Line each piece of foil with a piece of parchment paper.
Season MSC certified wild Alaskan cod with salt and pepper on both sides. Place fish on each of the parchment lined foil squares.
Chop, seed and drain tomato. Mix tomatoes, shallot, olive oil, parsley and herbs together.
Place MSC certified sustainable cod on top of chopped tomato mixture, drizzle fish with melted butter and fold edges of foil and parchment over to enclose top of packets. Then fold sides in to form a tight seal.
Place packets in a single layer on a large baking sheet and place in middle of pre-heated oven. Bake for 15 minutes.
Remove packets and let sit for 3 minutes before placing on individual plates or serving over brown rice or vegetable noodles (such as zucchini zoodles). Use caution when opening hot packets.