Wild pan fried salmon with pumpkin purée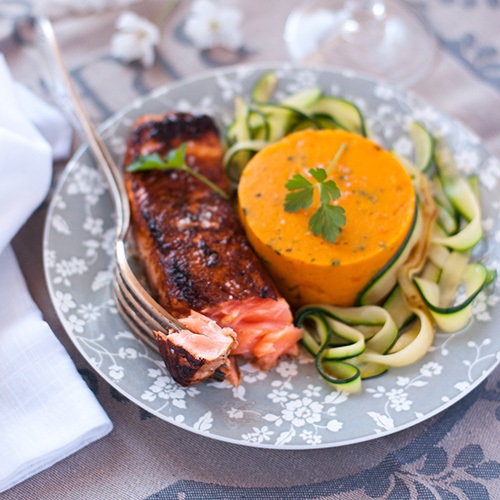 4 fillets MSC certified wild salmon
50g honey
5ml water
50ml soy sauce
800g pumpkin
100g ricotta
50ml soya milk
30g butter
2 tablespoons fresh parsley, chopped
Salt and pepper- to taste
1 medium courgette (zucchini)
2 tablespoons olive oil

1. If frozen, remove the salmon fillets from the freezer the night before, giving them time to thaw.
(Tip: If you do not have time, you can get them out 1 hour before cooking and put them- in their packaging- in a bowl filled with warm water to thaw instead)

2. To prepare the marinade, warm the honey with the water and soy sauce in a saucepan and over a medium heat, stirring them together until they are well combined. Let the marinade cool down in a bowl, then place the fillets skin side up, so that the fish soaks up the marinade. Cover and refrigerate for about 20 minutes.

3. Peel the pumpkin and cut it into cubes. Using a steamer, cook the cubes for around 10 minutes- until cooked through. Mix the pumpkin with the ricotta, soya milk, butter and parsley. Season well with salt and pepper, then set aside.

4. Fry the salmon fillets skin side down for approx. 4 minutes on a medium heat, pouring about three tablespoons of marinade to fry the salmon in per fillet. Then flip them over and cook for about 2 more minutes. The fish should be soft and flaky- do not overcook!

5. Whilst the salmon cooks, make the courgetti. Wash the courgette, then using a vegetable peeler, peel lengthwise into thin, noodle-like strips. Heat the olive oil to a medium/high heat, then lightly fry. Season well with salt and pepper, then plate up with a piece of fish.

6. To finish, heat through the pumpkin purée and place this on the plate with the salmon and courgetti. Eat and enjoy!
Thank you for subscribing to the newsletter. Look out for delicious sustainable seafood recipes in your inbox soon.
Subscribe to the Simply Seafood Newsletter to receive freshly curated sustainable seafood recipes.
YOUR DATA PROTECTION CONSENT