Wild sole, white wine and caper brown butter sauce, arugula

Recipe By


Charlotte Langley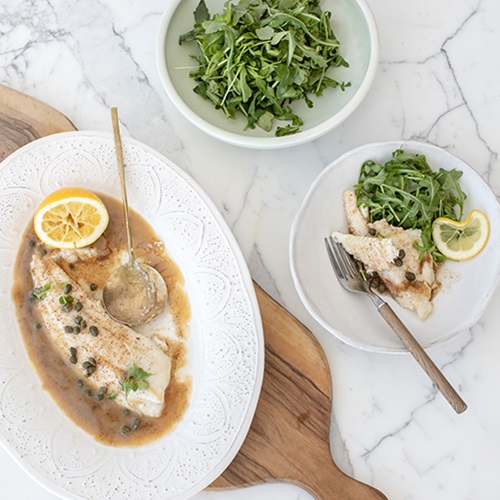 2 lbs of MSC certified sole (150 – 225g per serving)
½ lb unsalted butter
2 tbsp capers
Zest and juice of 2 lemons
¼ cup Nobilo Sauvignon Blanc
½ lb fresh arugula
Salt
Canola oil
Preheat oven to 350°F. Cut the sole into even portions.
Place sole portions on a parchment lined baking sheet and season each fillet with a little salt and a drizzle of canola oil
Roast in the oven for 10-12 minutes
For the brown butter sauce, melt the butter in a steel sauce pot over medium heat. Gently whisk continuously until the butter starts to brown, approximately 5 minutes. Continue to whisk a few minutes more until a darker brown colour develops, then remove immediately from heat so it doesn't burn.
Add the capers (this helps cool the butter slightly so it doesn't sputter when you add the rest of the ingredients). Add the lemon juice, zest and white wine.
Season with salt to taste. Capers can be very salty, so taste before adding too much salt.
Assemble by dividing the arugula onto each pate. Place the sole fillet on top and drizzle generously with the brown butter caper sauce. Garnish with a few slices of lemon and serve immediately.
Serve with Nobilo Sauvignon Blanc and enjoy responsibly!