Fishery Improvement Projects (FIPs) are initiatives that aim to help fisheries move towards sustainability. They are often created with a view towards achieving MSC certification, and as the number of FIPs grows, the MSC is establishing new ways of supporting them.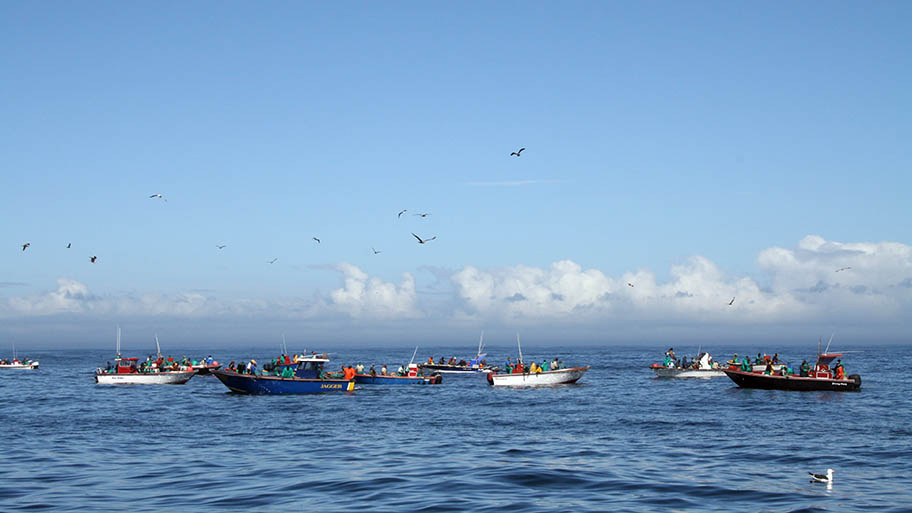 Small scale fishers around Cape Point, South Africa © Jaco Barendse/MSC
FIPs are multi-stakeholder projects, typically involving local and international non-governmental organisations (NGOs), supply chain and market representatives, or anyone involved in fisheries management. Over the last decade or so FIPs have become an established mechanism to help drive environmental improvements worldwide.
Small-scale fisheries and fisheries in the Global South often face barriers to sustainability, including a lack of data on the environment and fishing impacts. Forming a FIP can help fisheries overcome these barriers.
The MSC has always viewed FIPs as important tools for fisheries wanting to progress towards sustainability. For their own part, many FIPs already use the MSC Fisheries Standard as a framework for improvement, regardless of whether they seek to become certified or not. For the more than 100 'Comprehensive FIPs' listed on the widely used FIP directory, fisheryprogress.org, their road to improvement started by first undergoing an MSC pre-assessment.
Our view is that FIP implementation should always be 'credible' with fisheries regularly reporting on progress against an action plan and delivering independently verified improvements within a set time limit.
To help achieve such credibility and meaningful progress, the MSC has provided benchmarks and a growing number of tools. Our support mechanisms for FIPs continue to develop.
Providing a new improvement framework
In 2019 we launched the
In-Transition to MSC (ITM) program
to support fisheries in FIPs progress towards full assessment against the MSC Fisheries Standard. The program is open to small-scale fisheries in the Global North and any fishery in the Global South committed to achieving MSC certification.
It sets out a standardised process for fisheries to have their progress verified on an annual basis. This uses the existing MSC assurance system, with checks performed by accredited, independent conformity assessment bodies (CABs). Fisheries can remain in the ITM program for up to five years after which they are expected to enter full MSC assessment and achieve at least a conditional pass.

Download the ITM program brochure
Funding opportunities
Implementing improvements can be costly so it is good news that fisheries in the ITM program are also eligible to apply for funding from the MSC's
Transition Assistance Fund
. Fisheries can receive up to £50,000 per grant to cover costs of implementing and verifying improvement actions. This may include the cost for a dedicated ITM project manager.
Fisheries should apply for Transition Assistance Fund grants before 6 January 2021.
The evolving FIP landscape
The number of fisheries in FIPs is rising year-on-year and becoming more diverse in terms of target species, location, and size.
The 2020 Global Landscape Review of Fishery Improvement Projects reported that the number of active FIPs increased from 83 to 136 between 2014 and 2019. FIPs are currently operating in 52 countries, the majority of which are in Asia and the Americas, with Indonesia and Mexico emerging as regional hotspots.
The most recent FAO State of World Fisheries and Aquaculture report highlighted that small-scale fisheries are responsible for around half of all global catches and account for over 90% of people employed in fisheries. Likewise, fisheries in the Global South produce 64% of global wild capture. Clearly, engaging with such fisheries to improve the sustainability of their fishing practices is key to preventing overfishing and protecting livelihoods.
The Global Landscape Review of Fishery Improvement Projects highlighted that one of the biggest benefits of FIP activities has been to improve understanding of a fishery's environmental health and fishing practices, often through data collection and analysis.
Robust management is another key factor in sustainable fishing but can be challenging to achieve due to weak governance and lack of political will, especially for small-scale fisheries. FIPs have played a key role in overcoming this challenge by helping to establish governance networks. This allows for improved collaboration between different stakeholders, leading to better fisheries management.
Stakeholder support
FIPs today remain multi-stakeholder, multi-sector initiatives. However, there has been a clear shift away from the traditional non-governmental organisation FIP implementors towards private sector ones in the last five years. Notably, seafood companies are increasingly directly involved in the implementation of FIPs.
FIPs have always been incentivised by market forces. However, now more than ever it is essential that any market benefits are conditional on FIPs continuing to meet their environmental improvement goals otherwise there might be a 'race to the bottom' for seafood sustainability, an issue already identified in 2015.
The 2020 Global Landscape Review also identified that the success of FIPs can vary, and opinions are split as to how success can or should be measured. However, initiatives such as the FIP evaluation Program of the Sustainable Fisheries Program (SFP), strive to provide regular updates on FIP progress ratings allowing stakeholders to know a FIP's current status and drive further improvements.

Download the ITM program brochure