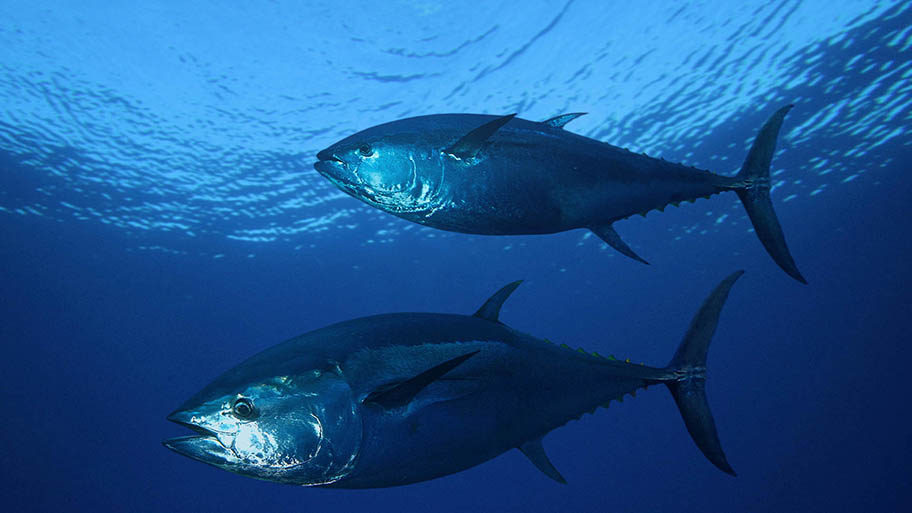 The adoption of a state-of-the-art harvest strategy for Atlantic bluefin tuna could inspire crucial negotiations over tuna stocks in the Western Central Pacific Ocean.
A landmark agreement to adopt state-of-the-art conservation measures to safeguard stocks of Atlantic bluefin tuna has been reached by regional fisheries management organisation, the International Commission for Conservation of Atlantic Tuna (ICCAT).
A 'safety net' for bluefin stocks
Atlantic bluefin tuna requires a robust harvest strategy that will act as a 'safety net' to ensure stocks are allowed to recover should they ever fall below sustainable levels. The agreement to establish a 'management procedure' for Atlantic bluefin was ratified after years of hard work and collaboration between ICCAT members.
The move to a harvest strategy is a significant departure from annual quota negotiations that had contributed to years of decline and overfishing of Atlantic bluefin tuna, says non-governmental organisation, Pew Charitable Trusts. Instead, the management procedure will "lock in" the recent recovery of the eastern Atlantic and Mediterranean bluefin tuna population.
In August 2020, the Japanese Usufuku Honten Northeast Atlantic longline bluefin tuna fishery became the first bluefin fishery to achieve MSC certification for sustainable fishing. The new ICCAT agreement will benefit this fishery and two other MSC certified fisheries that target bluefin tuna in the eastern Atlantic and the Mediterranean: the SATHOAN French Mediterranean bluefin tuna artisanal longline and handline fishery and JC Mackintosh Greenstick, handline and fishing rod bluefin tuna fishery.
Conditions in these fishery certifications have continued to call for additional efforts to establish robust harvest strategies for tuna stocks in the Atlantic, which is a hallmark of the MSC program – that well managed fisheries are required to improve components of their management so that their operations can demonstrate best practice across all functions.
Pew goes on to say the ICCAT agreement is a "seminal moment" in the management of fish stocks.
Western Central Pacific Ocean tuna
The announcement comes as the 26 member states of the Western Central Pacific Fisheries Commission (WCPFC) are preparing to meet for crucial negotiations on harvest strategies for skipjack tuna stocks in the Western Central Pacific Ocean, among other conservation measures.
The failure to agree to a harvest strategy in the WCPO could threaten the long-term sustainability of these tuna stocks and also risk the MSC certification of 33 WCPO fisheries which account for 85% of all MSC certified tuna.
Rupert Howes, Chief Executive of the MSC said: "We very much hope that the leadership and courage shown by the Atlantic tuna commission inspires delegates from the Western Central Pacific Fisheries Commission when they meet next week."
Howes adds: "Progress is urgently needed to agree a workplan and harvest strategies for the long-term benefit of all those who depend on tuna from the Western Central Pacific for their income, livelihoods and nutrition."
The MSC has joined leading retailers, tuna brands, the fishing industry and NGOs worldwide in calling for progress towards harvest strategies at the annual meeting of the Western Central Pacific Fisheries Commission, which takes place in Vietnam.