Over the last eight years the MSC has been supporting fisheries in West Africa on their journey towards sustainability – more recently as part of a multi-stakeholder effort, the Coastal Fisheries Initiative (CFI).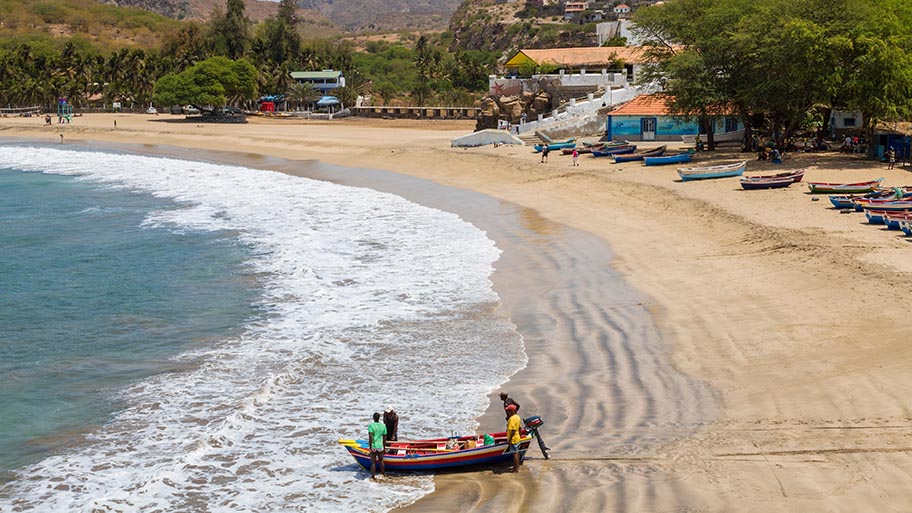 The fishing grounds off the coast of West Africa are some of the richest and most diverse in the world. The fishery sector is an important contributor to economic productivity and employs more than 10% of the active population, particularly in coastal fisheries.
The Cabo Verde (Cape Verde) archipelago, for example, has a coastline stretching over 1,020 km and is home to 80% of its population. More than 5,800 livelihoods depend on coastal fisheries for food and income, and women make up a fifth of the post-harvest workforce.
However, coastal fisheries in the region are increasingly threatened by overfishing, unsustainable management practices, and high levels of post-harvest losses. Most West African stocks are fished beyond sustainable limits, putting the local livelihoods, food security and marine biodiversity at risk.
Fisheries sustainability seems out of reach if you combine these factors with financial limitations and a lack of training and expertise in the region.
A global partnership to support coastal fisheries in developing economies
The CFI is a collaborative, global programme funded by the Global Environment Facility (GEF) to safeguard marine resources and ensure more sustainable use and management of coastal fisheries. It provides hands-on support to coastal fisheries in Asia, Latin America, and West Africa, where it is implemented by the UN Food and Agriculture Organization (FAO) and the UN Environment Programme (UNEP)/Abidjan Convention.
In West Africa, more than US $6.5 million in GEF funding is being channeled through FAO to improve coastal fisheries management in Cabo Verde, Côte d'Ivoire and Senegal. Currently, across two pilot sites in Cabo Verde, the CFI-West Africa project works to improve fisheries governance, empower women in the seafood value chain, deliver much-needed capacity building to fishing communities, and facilitate the sharing of best practices in sustainable fisheries management and post-harvest fish processing.
Providing the framework and tools for improved fishing practices in Cabo Verde
In May 2022, the MSC took on a technical advisory role to help fisheries stakeholders understand the environmental performance of local fisheries. Cabo Verde's bluespotted seabass fishery was the first to be benchmarked and pre-assessed against the MSC Fisheries Standard to identify areas for improvement.
This comprehensive analysis of the fishery informs an initial improvement action plan as the next step to address the performance gaps identified in the pre-assessment stage. The action plan aims to deliver measurable benefits such as an enhanced data collection and stock assessment program, targeted research, more dedicated monitoring, control and surveillance, and improved management of the marine protected areas (MPAs) in the country. An improvement action plan will also encourage more fishers to participate in the decision-making processes that ensure the sustainable use of the fishery resources.
Like most coastal fisheries along the eastern Atlantic, the bluespotted seabass (Cephalopholis taeniops) handline fishery is of great socio-economic importance to Cabo Verde. But these West African fisheries may also lack dedicated resources and technical capacity needed to implement sustainable fisheries management practices.
In June 2022, the MSC delivered a capacity building workshop to local stakeholders which included training on its Fisheries Standard and 'pathway tools' as well as a deep-dive into the technical characteristics of the selected fishery. The training and technical session allowed stakeholders to better define the scope of the pre-assessment and to collect crucial information about existing data and regulations, and to identify the key actors to engage with – essential building blocks to create an enabling environment that can drive sustainable fishing on a wider scale in West Africa.
Ms. Fatou Sock, FAO Fishery Officer and CFI Chief Technical Advisor said: "The CFI places local fishing communities at the heart of its work. We use the Ecosystem Approach to Fisheries (EAF) and a knowledge sharing strategy to empower women and men in fisheries value chains in order to achieve sustainability.
We cannot reach this goal without involving fishers and fish workers as well as scientists and authorities, because sustainability must embrace multiple dimensions — the social, the economic and the environmental. By addressing the needs of the communities and strengthening their voice, knowledge, skills and decision-making capacities, we can help ensure better livelihoods in healthier ecosystems."
The MSC's Senior Fisheries Program Manager for West Africa, Carlos Montero Castaño, added: "Collaborative projects like the CFI-Cabo Verde project are fundamental to support countries, fishers, and regional stakeholders in their effort to improve the sustainability of their marine resources and activities. It also offers a great opportunity to use the MSC Fisheries Standard as a guide, or roadmap, towards improved environmental performance.
For these reasons, we value this project partnership with the FAO and will continue to contribute to regional initiatives to ensure that all fisheries in West Africa, regardless of size, gear and location, can embark on their journey towards sustainability. Without doubt our collective efforts can help to ensure regional fisheries remain productive and resilient in the face of the growing pressures and demands placed on them."
The MSC Fisheries Standard was one of the first models for sustainable fishing to base its requirements on the FAO Code of Conduct for Responsible Fisheries, giving fisheries the opportunity to demonstrate their sustainability against internationally recognised best practice. After 25 years, the MSC is ever committed to help fisheries improve their environmental performance, with an ambition for more than a third of global marine catch to be engaged with the program by 2030.

Read more about the MSC's other Pathway to Sustainability projects in West Africa.
Contact Carlos Montero to find out more about how the MSC engages with regional fishery stakeholders in West Africa.
---