Mexican fishery aims to transition to assessment to MSC Fisheries Standard.
Improvements to stock assessments, harvesting and monitoring protocols.
Knowledge sharing for ecosystems and habitats.
Strengthened communications for management and surveillance.
Start date: 01 April 2023
£25,000
Transition Assistance Fund
Awardee
Pronatura Noroeste
Fishery
Mexico, Baja California red rock lobster trap fishery
Collective expertise for improved performance
Baja California, in the Pacific northwest of Mexico, is home to the first small-scale fishery in a developing economy to achieve certification to the MSC Fisheries Standard – the certified Mexico Baja California red rock lobster fishery.
Now, a second red rock lobster fishery, also located in Baja California, is aiming to follow its certified Southern sister and achieve certification, with plans to enter full assessment to the MSC Fisheries Standard in 2025.
The red rock lobster fishery is currently making improvements to its performance through the In-Transition to MSC program. The fishery is one of two fisheries in the region to receive a renewed award from the MSC Transition Assistance Fund. This will enable further improvements to be made, prior to the fishery entering full assessment.
Collecting data and monitoring impacts
A cooperative approach to fisheries management is important for all the fisheries in Baja, California, Mexico and the grant will enable the red rock lobster fishery to knowledge share with its certified sister fishery and achieve best practice.
Funding will allow the fishery to collaborate with fishing authorities and expert marine biologists to collect, log and analyse data. This information will be used to make improvements to how lobster stocks are assessed and how harvest control rules are designed and implemented.
The local fishing organisations will also collaborate in a monitoring programme to estimate the impact of the fishery on Endangered, Threatened and Protected (ETP) species. Data from close monitoring will be logged and inform detailed annual catch reports to support that the red rock lobster fishery has no commercial interest in ETP species or sharks, which are sometimes found in the traps before being released alive.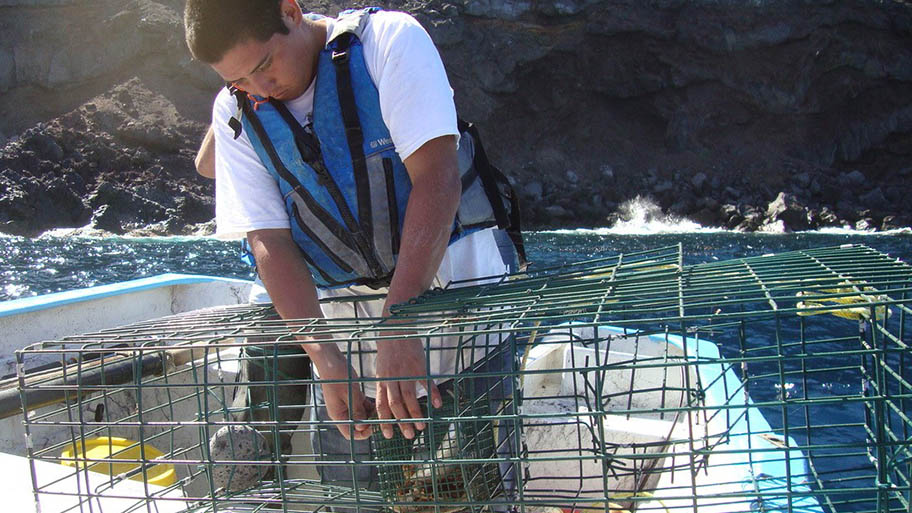 Fisherman with red rock lobster traps © Yohena Raya / Pronatura Noroeste
Neighbourhood watch for habitats and ecosystems
Though the habitats in which the lobster fishery operates are well studied, the focus group will hold meetings to identify any missing information around the fishery's impact on the wider ecosystem.
Habitats will be scientifically described and a systematic review of species populations with environmental variables mapped.
A survey of fishing ports will also be carried out to diagnose the impacts of fishing methods on habitats and ecosystems in the region.
Monitoring for compliance and enforcement
The final of the remaining improvements will be reached through the installation of a technical committee for improved fisheries management.
The fishing organisations in the region will strengthen their community-based surveillance capacities to acquire more evidence of compliance to the requirements of the MSC Fisheries Standard.
---