By Nick Wyke
Cooking shellfish over hot coals adds a whole new dimension to seafood.
I used to think that shellfish like lobster, scallops and crab were best eaten only at well-reviewed waterfront restaurants. I imagined that only their chefs held the secret to a plate of seafood that was sweet, intense, and slightly charred. But I was missing a trick. On a trip to Iceland, I watched a Michelin-starred chef named Aggi Sverrisson cook sea-fresh lobster tails on the white coals of a beach barbecue. Brushed with lemon butter and wild kelp flakes not only was it unforgettably delicious, it looked feasible for mere mortals.
And so, I learnt that with a little know-how shellfish is just as easy, if not easier, to cook than fish on a backyard barbecue. In the case of lobster, crab and shrimp their built-in shell protects them from intense heat and prevents them from falling apart. Squid and scallops meanwhile, have hardy muscular textures that withstand heat well. Follow a few simple steps and the results will be sweet, smokey and sensational. What's more, if you grill these premium seafoods at home, you can spend what you don't shell out at a restaurant on a great bottle of white wine – mine's an Albariño!
Below we've highlighted the best sustainable shellfish to use in your region so you can enjoy a cookout with family and friends knowing that you're not depleting the ocean's fish stocks. After reading this article you might like to read our guide to the five best sustainable fish for the barbecue.
Lobster
Extracting the succulent, pearl-white meat from the claw of a lobster has to be one of the all-time great gourmet experiences. There are a number of ways to cook a lobster, but finishing it on the grill gives it a sweet, smoky flavour.
Cracking a lobster is not for the faint-hearted. So to keep things clean and simple, ask your fishmonger to cut and prepare a whole lobster for you or buy lobster tails. Lobster tails are excellent on the grill and a big favourite along the eastern seaboard of North America, where lobstering is considered a way of life.
Season and brush the fresh lobster meat with butter. Place the tails or halved whole lobsters on a hot grill flesh-side down. Cook for 4 to 5 minutes on each side, brushing with butter as you go. Cover the grill to keep the heat in; this speeds up the cooking time, which prevents the shellfish from becoming tough. If you don't have a cover, you can use an upturned saucepan. Pre-cooked lobster can easily be re-heated on the grill, too. Brush with butter or oil and heat for around 2 to 3 minutes until hot. If it's still in the shell, place it shell-side down on the grill.
Lobster is finger-lickin' good on its own. Photographer and MSC Ocean Ambassador Sebastien Copeland says: 'There is nothing like having fresh lobster... grilled on the fire after a day spent playing on the ocean [in Baja California]. A little butter, some salt and good company. What else can you ask for?'
Flavoured butters are a quick-win to raise the umami stakes. Pack some sizzling hot, butter-brushed lobster fresh off the grill into a soft hot dog bun and you have a lobster roll, a coastal shack staple in Maine, the northeasternmost state in the US. Alternatively, serve the chunky bits of charred lobster in sliders with lemon and dill aioli or stuff tacos with grilled lobster, chipotle mayo, homemade slaw and red onion pickle.
Sustainably caught, MSC certified lobster stocks are found around the world, from Australia to Chile to France. Most recently the Saint Paul Rock Lobster Fishery in the Southern Indian Ocean, which processes its catch onboard and lands it on La Réunion island, was MSC certified in May 2020. Buying lobster from sustainable fisheries encourages more retailers to stock sustainably-sourced seafood and fisheries to improve and become certified.
Squid
Often seen as texturally challenging, squid is most popularly consumed breaded and deep fried as an appetiser. But recipes using wild-caught squid are gaining traction among adventurous chefs and Millennials alike. And this versatile cephalopod is terrific on the barbecue both in terms of its lightly charred taste and bite. It cooks in just minutes on a blazingly hot grill – leave it any longer and it will be as tough as old fisherman's boots. The tentacles can stay on the grill for more time, if you like, until they go crispy.
A key step to avoiding the dreaded rubbery texture is to thoroughly pat the squid dry with a paper towel before coating it in oil. Then the aim is to rapidly sear the squid before it loses its tender texture.

Top tip: If the bars on your grill grate are wide apart, sit your shellfish on a grid wire mesh so it doesn't fall through.

To add interest and flavour before grilling, marinate squid in fragrant herb oils or try salt, pepper and Chinese five spice squid served with a piquant sweet chilli dipping sauce. Squid stacks up well on skewers with cherry tomatoes and anchovy butter, or simply marinated with lemon zest and olive oil and alternated along the skewer with chorizo. You can brush on teriyaki sauce (pre and immediately post cooking) or pretty much any other combo of sweet and salty sauces while grilling squid and serve with a sprinkling of toasted sesame seeds and fresh parsley.
The US continues to be a leader in sustainable squid. Longfin squid and Northern Shortfin squid are two species that are MSC certified from a handful of fisheries in the Northwest Atlantic. The most recent certifications were issued in late June 2020. Due to changing water temperatures, squid have been migrating further north up the coast than in past years, where they are harvested by small mesh bottom trawls. Sustainable squid will ensure the ecosystem is healthy for generations to come.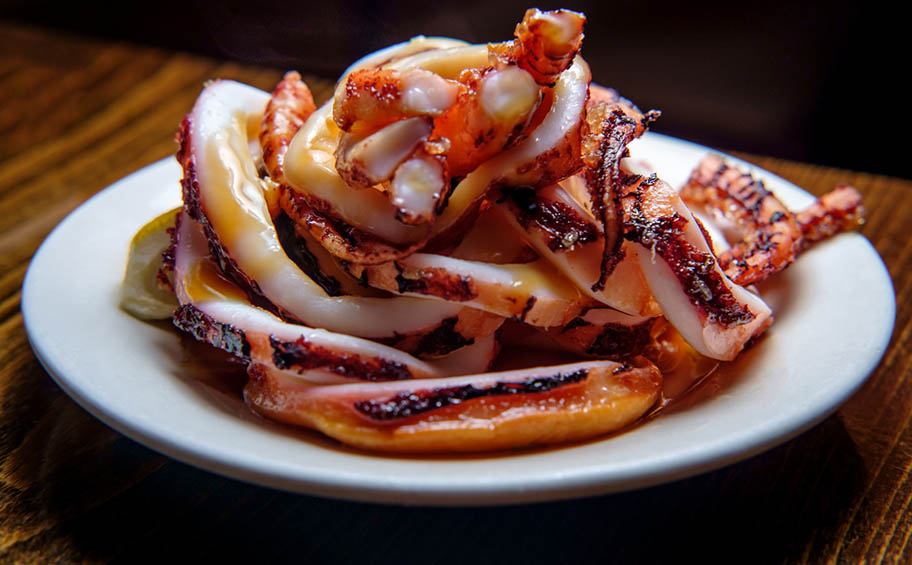 istockphoto.com/portfolio/ezumeimages
Scallops
Scallops are another fancy ingredient that benefit from a boost on the backyard barbecue. Quick and simple to cook, the results are impressive: golden, grill-striped cushions of seafood goodness.
Like squid, scallops need to be as dry and cold as possible before cooking. They tend to act like a sponge if you marinate them and take on too much moisture, so it's best to use dry seasoning blends or a last-minute glaze (try balsamic; ginger, lime and soy or homemade, red hot buffalo sauce). Oil the grate to prevent sticking and grill scallops over direct heat for no more than 2 - 3 minutes per side. To keep them intact, use a fish spatula - not tongs - to flip them. The result should be a crispy top and bottom that's silky in the middle.
If you've cooked them naked (not you, the scallops!) dress them with spoonfuls of a zippy sauce made from shallots, capers, lemon juice and parsley, or simply with blitzed minted peas. My Golden Scallop award for most creative mollusc recipe, though, has to go to New York-based chef and restaurateur Michael Psilakis. Expertly illustrating that we are only limited by our imagination, he fills grilled, sliced scallops with plums, prosciutto and pea tendrils topped with Greek yogurt.
MSC certified, sustainably caught scallops are found in various parts of the Atlantic: the Atlantic scallop is harvested in the waters off the US and Canada (Atlantic, Northwest); the Great Atlantic scallop (or King scallop) is dredged off the shores of Scotland's Shetland Islands (Atlantic, Northeast); and the Patagonian scallop is caught by a fishery using two trawl nets off the coast of Argentina (Atlantic, Southwest). Finally, sustainably caught Yesso scallops are sourced in the Northwest Pacific and are available for the Japanese domestic market.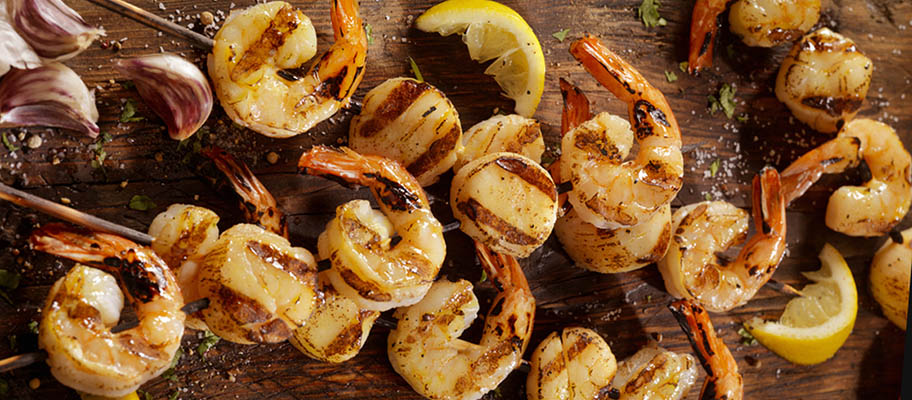 istockphoto.com/portfolio/lauripatterson
Crab
Many of us will be more comfortable with a bought crab sandwich than the thought of cooking these wildly varied and beautiful crustaceans in an outdoor fire pit. But it's not as intimidating as you might think and it's worth it – grilling crab not only avoids the fuss of pot boiling and the potential for soggy flesh, it gives the sweet meat a smoky edge and a tender texture. For a truly smoky flavour, you can throw a few wood chips on the barbecue.
Seasoned and brushed with oil or butter, grill fresh whole crab on a medium-high heat for 5 to 7 minutes and close the lid. Flip each crab and continue cooking for 3 to 5 minutes. Reduce the time to a total of about 5 minutes for crab legs. Then crack them open and enjoy!
"Pre splitting crabs into easy to manage pieces is always fun and makes it easier to brush the yummy inside bits with roasted garlic butter, citrus and herbs," says Canadian chef and MSC Ocean Ambassador Charlotte Langley. "I really like to keep it as simple as possible so everyone can add what they like. Some of my family like it with vinegars to dip, as for me, I am an all butter kind of girl."
Serve with corn on the cob, lemon mayo and an apple and fennel salad, creamy guacamole or a tangy Japanese ponzu sauce – a quick homemade version can be whipped up with soy sauce, lemon juice and mirin.
MSC certified, sustainably caught crab can be found in diverse regions of the world: Red King crab, also known as Alaskan crab, in Russia's icy Barents Sea; Blue crab in the Louisiana state waters in the Gulf of Mexico; deep-sea Crystal crab from Australia's west coast; Snow crab from the Scotian Shelf off the eastern and north-western coasts of Nova Scotia, and also from fisheries operating in the cold waters of Newfoundland and Labrador; the Shetland Brown crab in Scotland, and the Blue Swimmer crab in the Peel Harvey Estuary, south of Perth, Western Australia. The latter is unique in that the certification assessment goes beyond commercial concerns and takes in the popular recreational fishery for swimmer crabs.
Shrimp
Shrimp* is spectacularly popular worldwide for a good reason: it's quick and easy to cook and tastes terrific. So, if you've not graduated to cooking creatures with claws and tentacles yet then shrimp is a great entry point for the budding backyard chef. Once you've mastered it, you'll have a go-to summer dish to impress friends and family.

That said there are a few tips to make the most of grilling shrimp. As a rule of thumb, bigger is better for juicier results. Whether you leave on the shell and/or de-vein is a personal preference. The shell offers some protection from the heat of the grill and can keep the shrimp from drying out, but de-shelled shrimps are easier to skewer and marinate. It's really up to you whether you leave the tails on or remove them before grilling – they certainly add a visual flourish.

For ease of turning, cook shrimps on a skewer on a medium heat for about 2 to 3 minutes per side on the grill, flipping them halfway through. They should be pink and opaque when cooked. Like all of the above shellfish, try not to overcook them or they can become tough and dry.

Marinate in a spicy Cajun barbecue sauce, Singaporean-style satay sauce or fragrant harissa and serve on nutty wild rice; alternatively add a splash of tequila or rum to a basic olive oil and citrus marinade and serve with spring onion and tarragon mayonnaise. For a memorable salad try crisp and plump shrimps with grilled watermelon and smoky avocado.

MSC certified sustainably caught shrimp is found in these places around the world: Norway, Iceland, Australia, the Indian Ocean, Guyana, Suriname, West Greenland, Estonia, Faroe islands, Canada, and Oregon and Washington states in the US. By choosing shrimps with the blue MSC label you are supporting independently certified sustainable fisheries. Their good management practices help ensure fish stocks and habitats are healthy and fishing community livelihoods are secure.
*There are biological differences between shrimps and prawns, the most recognisable one being that prawns are typically larger than shrimp. They are similar in taste and texture, although prawns are meatier and can be sweeter. What North Americans call shrimp, Australians and British people refer to as prawns.
Chargrilled Skull Island Tiger Prawns by chef Andy Allen
Chargrilled Skull Island Tiger Prawns by chef Andy Allen
Charcoal versus gas
When it comes to al-fresco grilling it seems that a gas barbecue is most convenient but charcoal models cook tastier food, so says a survey by Which? magazine in June 2019. For that chargrilled taste and succulent meat that define great barbecues it's got to be the hot coals. Why? Fat from the food drips onto the hot charcoal and vaporises. The smoke this creates is absorbed back into the food to give that unbeatable barbecue taste.

Nick Wyke is a journalist and food writer who is passionate about local, seasonal and sustainable produce.