Ingredients

Stage 1
30ml extra virgin olive oil
30g brown onion, finely chopped
1 small clove of garlic, crushed
3-4 stalks of fresh thyme
150g Arborio rice
70ml dry white wine
1lt fish stock
Stage 2
30g red capsicum, diced
30g yellow capsicum, diced
12 red cherry tomatoes, cut in half
½ tbsp smoked paprika
1/3 tsp cayenne pepper
¼ tbsp turmeric
Stage 3
6-8 MSC certified whole prawns, peeled, keeping head and tail attached
130g Tassal ASC certified salmon fillets, diced large
50g edamame beans
Garnish
15g curly parsley, finely chopped
10ml lemon juice
3g dill, finely chopped
Salt and pepper to taste
Look for the blue and green labels on your seafood to ensure we have a future full of fish.
Find out more about the difference between farmed and wild seafood.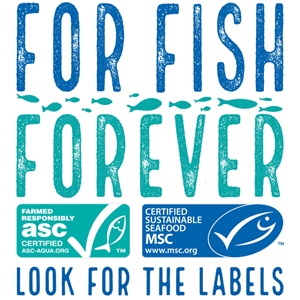 Method
Stage 1
Start by putting a paella pan onto medium heat

Add olive oil, onion, garlic and stalks of thyme to pan until they gain a light colouring

Remove the thyme stalks, then add rice and stir for 2-3 minutes before adding the
white wine

Let wine simmer and evaporate completely before adding 500ml of fish stock

Let this simmer until reduced.
Stage 2
Add an additional 300ml of fish stock, and all second stage ingredients

Stir through while adding and then let simmer until fish stock is reduced. can be added to the pan.
Stage 3
Finally, add remaining fish stock, prawns, diced salmon and edamame beans

Turn off heat and let the residual temperature from the pan cook the final ingredients for a couple of minutes.
Garnish
Finish off by garnishing with parsley, dill and lemon juice

Add salt and pepper to taste, then serve.
Recipe by Markella Koutalidi – Executive Chef, Mures Tasmania
Thank you for subscribing to the newsletter. Look out for delicious sustainable seafood recipes in your inbox soon.
Subscribe to the Simply Seafood Newsletter
YOUR DATA PROTECTION CONSENT