Once a picture of overfishing, Namibia's hake sector is being transformed. It's taken three decades of collaboration between government and industry to make an impact; stocks have doubled in size, and there have been significant commitments to sustainability.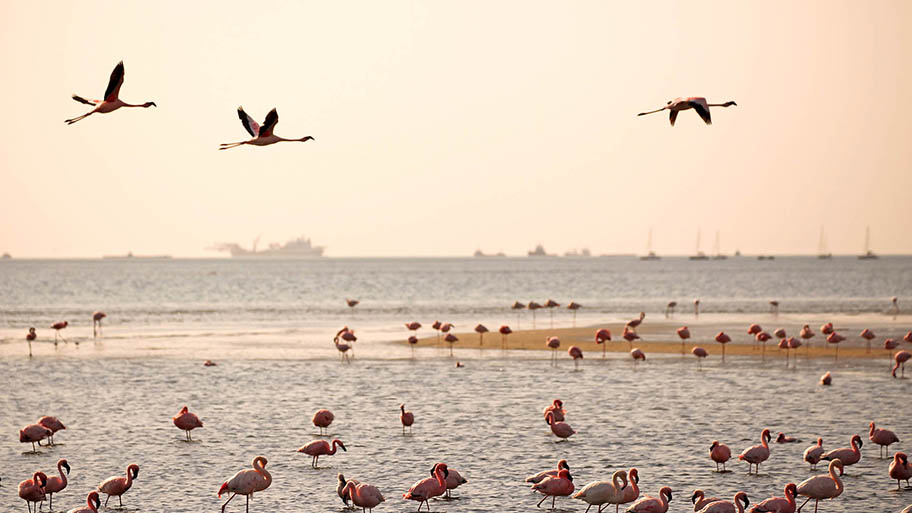 Walvis Bay, Namibia © istock.com/JurgaR
Nothing epitomises this turnaround better than the Namibian hake trawl and longline fishery's meeting of the Marine Stewardship Council Standard for sustainability – the first in the country to achieve this certification and only the second in Africa.
Namibia's recent history has been a troubled one. The country's German colonial administration was taken over by South Africa during World War One and it remained occupied, as South West Africa, until independence from South Africa in 1990.
Historically exploited by foreign fleets, annual catches for Namibian hake pre-1990s peaked at around one million tonnes. In comparison, total allowable catch for Namibian hake is now set at 160,000 tonnes. Its colonial legacy left it with a fishing sector that was almost entirely industrial – in turn providing Namibia greater opportunities. Quotas were above scientific advice, and something desperately needed to change. Overfishing from International fleets not only had severe consequences for the marine ecosystem but also limited the benefits to the local economy.
Upon independence, Namibia began a mission to rebuild its fish stocks.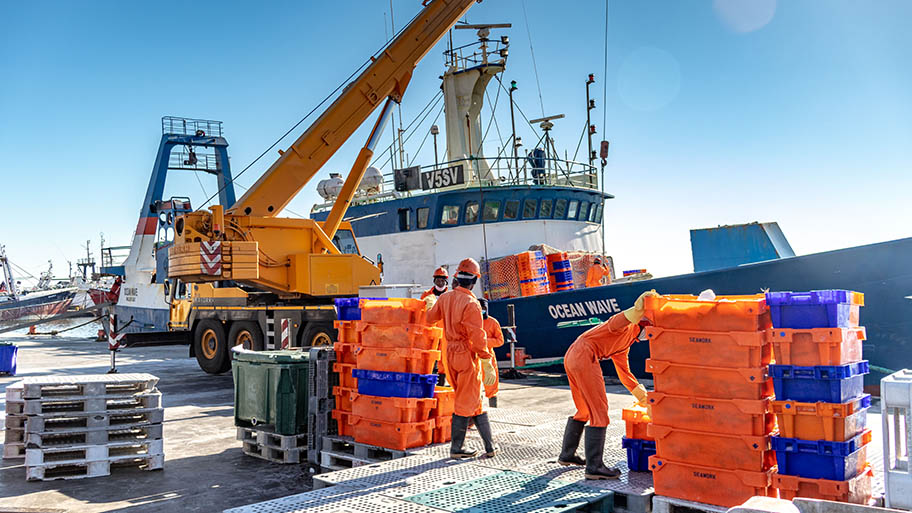 © Oliver Binneman
An industry driving economic development
Central to this has been Namibia's Marine Resources Act of 2000. It has been hailed around the world as one of the most progressive and successful fisheries policies, earning it the FANRPAN Food Security Policy Leadership Award in 2010 and the World Future Council's Silver Future Award in 2012.
The government and industry's shared goal was to create a profitable fishing industry that gave back to both people and the ocean.
"One of the key things the government did was introduce a 70/30 split for wet versus frozen" explains Ron Wolters, Executive Secretary of the Namibian Hake Association and representative of the certified fishery members. "This meant that the bulk of fish had to be processed ashore which encouraged job creation."
Namibia's engagement with the MSC goes back as far as 2010. Since then, improvements in the fishery, a rise in demand for sustainable products, alongside growing interest in the country's hake from food companies like the international giant, Nomad Foods, which owns the Birds Eye, Findus and Iglo brands, led the fishery to seek MSC certification.
Stefan Descheemaeker, CEO of Nomad Foods explained:
"As the world's largest buyer of certified wild caught white fish, and a proud co-founder of the MSC, we have a key role to play in encouraging fisheries to continuously improve their practices to ensure the health of fish stocks, vulnerable species and ocean habitats. This requires a long-term view and collaboration across the supply chain.
"With more than 95% of our raw material already externally certified, we are increasing our focus on fish species that make up the remainder of our portfolio, including Namibian hake.
"We have supported the Namibian hake trawl and longline fishery on its certification journey for a number of years and expect to be one of the first companies to bring products made from MSC certified Namibian hake to European consumers."
A significant employer of Namibian women
Based in the coastal towns of Walvis Bay and Lüderitz, the Namibian hake industry attracts jobseekers from all over the country.
"Fishing is the third biggest grossing industry in Namibia, after mining and agriculture. The hake industry itself, is worth around NAD$3.6 billion (US$ 0.23 billion)," explains Wolters. "The hake industry employs over 10,000 people and women make up a large proportion of that."
While mostly men are employed at sea, a larger number of employees work onshore in processing factories, with the majority women. This number doesn't include the service jobs, medical facilities and schools built around the industry.
"The fishing industry is the key economic driver of these towns," adds Wolters.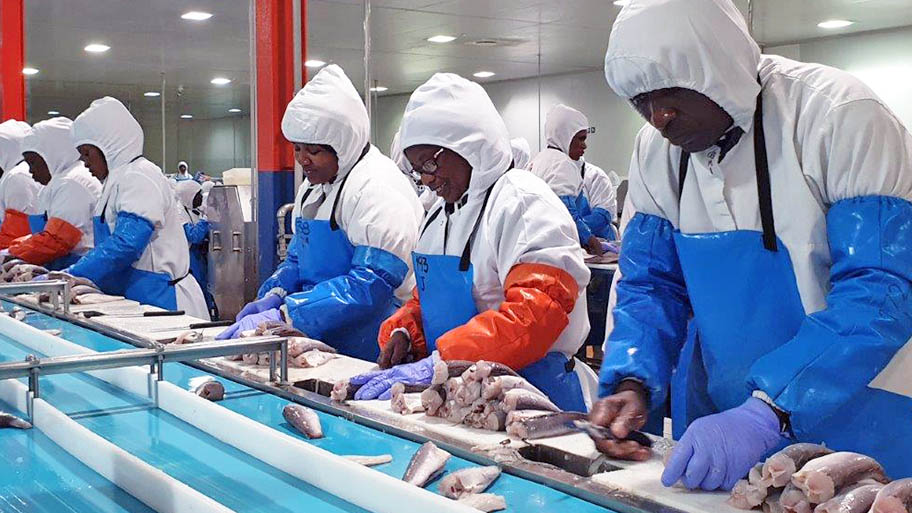 © Seawork
Making improvements to meet MSC certification
The Namibian Hake Association members use both longline and deep-sea trawl fishing gear. They target deep-water and shallow-water hake species with a catch of around 160,000 tonnes.
"Perhaps the most important thing that the government has done, is to set targets in line with scientific advice, allowing stocks to rebuild," explains Michael Marriott, Senior Program Manager at the MSC. "While the government may still be under pressure to maximise the short-term economic benefit to Namibia, the longer-term perspective has been pivotal in improving the fish stocks.
"The fishery has also implemented a clear harvest strategy and will work closely with the MSC certified South African hake trawl fishery to ensure information from both stock assessments is considered. Recent studies suggest that the deep-sea hake is one stock; this means both fisheries' activities have to be considered in the assessment."
The fishery also benefits from 100% fishery observer coverage on their trawl fleet and almost half the fishing activity in their longline fleets. Having a dedicated observer overseeing and recording fisheries activities is essential for recording independent data on interactions with threatened species.
Valuable support from local environmental NGOs
Alongside the fishery's work with their South African counterpart, BirdLife International's Albatross Task Force in Namibia, hosted by the Namibia Nature Foundation – with international experts from the Royal Society for the Protection of Birds (RSPB) – played a vital role in the assessment.

Research published in Biological Conservation by BirdLife International showed the fisheries' longline fleets reduced seabird bycatch by 98% after introducing bird-scaring lines as part of a regulation in 2015. The trawl fleets were found to have made markedly less progress, reflecting the conditions placed on the certification.
The fishery has a total of 15 conditions around stock, bycatch and management. These must be met within five years for the fishery to keep its certification.
"There's been strong progress in seabird bycatch reduction in the fishery, but there are some outstanding elements that need to be addressed," explained Titus Shaanika, Seabird Bycatch Mitigation Instructor from the Albatross Task Force Namibia.
"We'll continue assisting and collaborating with the Namibian Hake Association and the entire Namibian fishing industry regarding seabird bycatch data collection and mitigation measures."
A similar Task Force in South Africa also works closely with the South African hake trawl fishery, recently receiving an Ocean Stewardship Fund grant from the MSC to further their mitigation work on seabird bycatch.
Certification will help meet demand for sustainable hake
While the South African hake trawl fishery has benefited from selling to northern Europe as a result of certification, there is still greater demand than the fishery can supply. The new Namibian certification is set to help meet that European demand.
"We already sell to a lot of southern European markets but have struggled to break into northern European markets because you need a sustainable product," explains Wolters. "Having MSC certification means we can get top dollar for a high-quality product – and that benefit is kept locally."
The long-term partnership between the Namibian government and industry has been vital to achieving the benefits the local economy is experiencing today.
Dr A Kawana, Minister of Fisheries and Marine Resources, Government of Namibia said: "As custodians of our natural resources, it is our responsibility to manage Namibia's fisheries in a way that ensures the long-term health and biodiversity of the oceans, and at the same time allows our fishing industry to maximise the value of the resource for the current and future generations of the Namibian people – in line with the provisions of article 95(I) of the Namibian constitution.
"We have worked hard to rebuild hake stocks that were historically overfished. MSC certification of the Namibian hake is an independent endorsement that our efforts are working, and a signal to retailers, brands and fish lovers around the world – that Namibian hake is sustainable and here to stay."