By Nick Wyke
I'm often on the lookout for something new at the fishmongers. Not only because it makes cooking and eating more interesting but I like the thrill of netting a bargain.
I first discovered Cornish hake about five years ago. It was Christmas Eve and I was on chef duty for the traditional fish supper. I'd left it perilously late but nevertheless I approached our small-town fishmongers in hope of a bargain. 'Pete the Fish', as he is known locally, would rather have sold me his last loin of cod but the hake, laid out on ice, looked meatier and fresher and ultimately cost me a third less. 
At dinner that night, as I introduced braised hake cooked with tomatoes, peppers and chickpeas, there were compliments and empty plates all round. I still love cod, but for Christmas Eve now we always phone Pete a few days ahead for some hake.

Long bodied and lean, beneath hake's gun-metal skin and silvery belly is a mild tasting fish with a delicate texture. In fact, hake is something of a Cinderella fish. It has long deserved to receive more attention in places that favour more popular (and sometimes less sustainable) white fish such as cod, haddock and pollock. A close relative of the cod family, when cooked just right this deep-sea predator with pin-like teeth transforms into a subtly sweet fish that yields small but beautifully firm flakes the colour of Hollywood teeth.

There are a dozen species of hake, including European hake fished off the coast of Cornwall, England and Southern hake from the icy waters at the foot of Chile. Available around the world, it is predominantly a deep-sea fish, though some hake inhabit shallower waters. Growing up to one metre long, hake is a brisk fish that will ambush and consume fast-moving smaller prey such as mackerel, herring, sardines, sandeels and codfishes.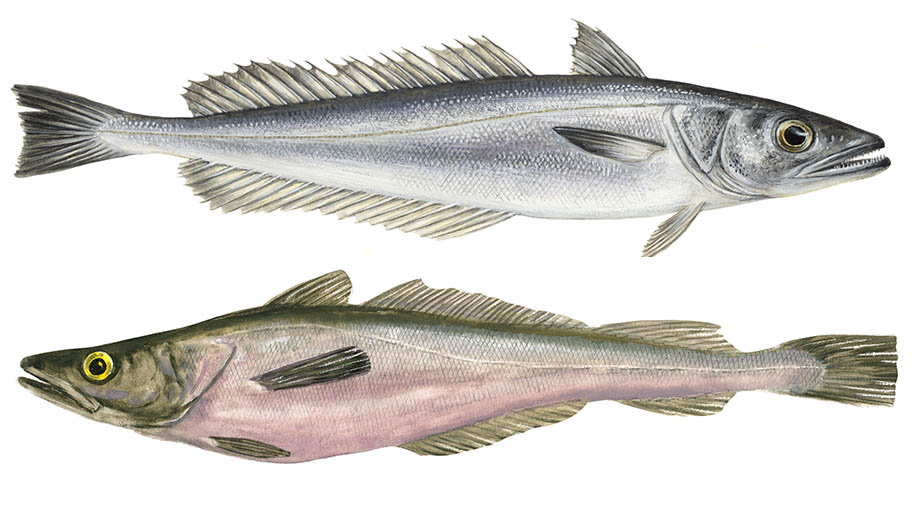 European hake (Merluccius Merluccius) and Southern hake (Merluccius Australis) © Scandinavian Fishing Year Book
A versatile alternative
In the kitchen, hake is often used as a versatile and less expensive alternative to cod. It's a good first step for those who have never strayed far from salmon, tuna and white fish staples. Like other white fish it can be fried, grilled, baked, braised, cooked in foil or used in soups and stews. However, because of its naturally soft flesh it deteriorates quickly and needs to be cooked at its freshest, especially if you prefer your hake to be meaty rather than mushy.
Like all fish, demand for hake varies in different parts of the world. It is very popular in China, South Africa, Ukraine and Lithuania as well as Spain, where it is consumed more than any other fish. While in the US and Canada, Pacific hake is mainly exported or used as a substitute for cod and haddock in frozen or processed products such as fish fingers and blended seafood snacks like surimi.

Finding fresh hake on restaurant menus or in supermarkets and grocery stores outside of the regional localities where it is fished in North America is hard. Even in places like British Columbia, where hake is the largest seafood catch by volume, there is little local appreciation of a fish that competes with wild salmon varieties.

Like all fish, there are confusing overlaps in species and nomenclature. In the US and other English-speaking countries hake is frequently sold as ling or whiting (silver hake), which is different to European whiting. In France, where hake has a lower profile than cod, it is known as 'merlu' south of the Loire, while north of the river it is called 'colin', much to the amusement of British tourists.
Spain, the hake capital
It is Spain, though, that is the capital of the hake ('la merluza') world, where you will find it on menus as fillets and medallions. The prime cut is a steak taken from the plump middle of the fish where there is less bone. 

There are scores of Iberian hake recipes, many of them involving garlic and paprika. Regional variations include Basque hake with a parsley-rich salsa verde, Galician hake on a braise of potatoes, garlic, tomato and onion and hake and apples cooked in Asturian cider. Nose-to-tail aficionados will approve of the fact that the Spanish enjoy hake chins as a delicacy, either fried with breadcrumbs or stewed in stock with paprika and clams. The Spanish even have a hake cake! The retro looking 'pudin de merluza' is a mash-up of hake, eggs, chopped pimiento, cream and tomato sauce. It is baked, cooled and then topped with mayonnaise. 

Hake also partners well with gutsy flavours such as capers, saffron, sherry, olives and cayenne pepper. Branching out, it is great with bacon, coconut and even a judicious sprinkling of parmesan and breadcrumbs to form a crunchy crust. Try hake in deep-fried Scandinavian-style fish balls ('fiskeboller') with a creamy dill sauce, oven roasted with crushed balsamic cherry tomatoes or pan-fried with a herby butter sauce served on charred red pepper and lemon couscous.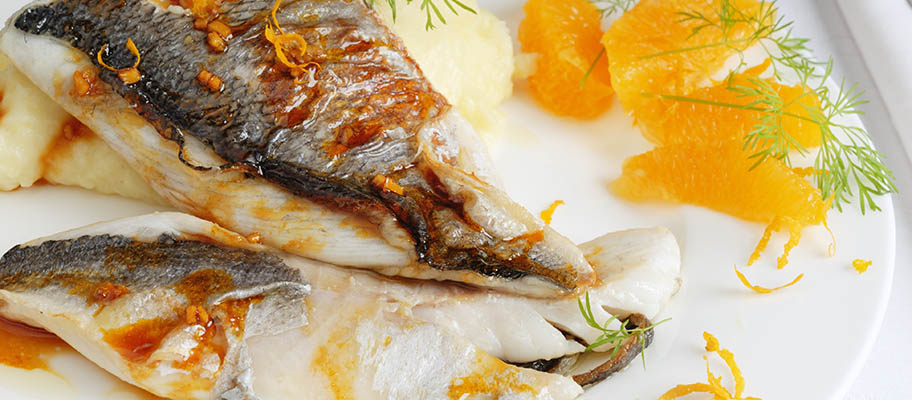 Sustainable hake fishing
By buying fish from sustainable fisheries you're encouraging more retailers to stock sustainably-sourced seafood and more fisheries to improve and become certified. 

As of November 2020, there are nine Marine Stewardship Council certified fisheries landing sustainably caught and processed hake around the world. European hake is fished off the coast of Cornwall and at three fisheries in the North Sea; Pacific hake (or Pacific whiting) is fished off the west coast of the United States and Canada; Southern hake is fished in the Pacific waters of Chile - the most recently certified fishery - and New Zealand; and deep water hake in South Africa.

The Namibia hake trawl and longline fishery was certified sustainable in November 2020.

"It's a big win for us in the region," says Louanne Mostert, communications and marketing manager for MSC in Africa. "Having another certified fishery engaged will grow the visibility of the MSC and demonstrate both the benefits of certification as well as the role of the MSC program in driving change and providing the tools for fisheries to improve their environmental performance."

Total catch numbers of MSC certified hake are high in South Africa (90%) and in the Pacific US and Canadian waters (100 per cent), as well as in the UK, where the majority of hake landed is MSC certified.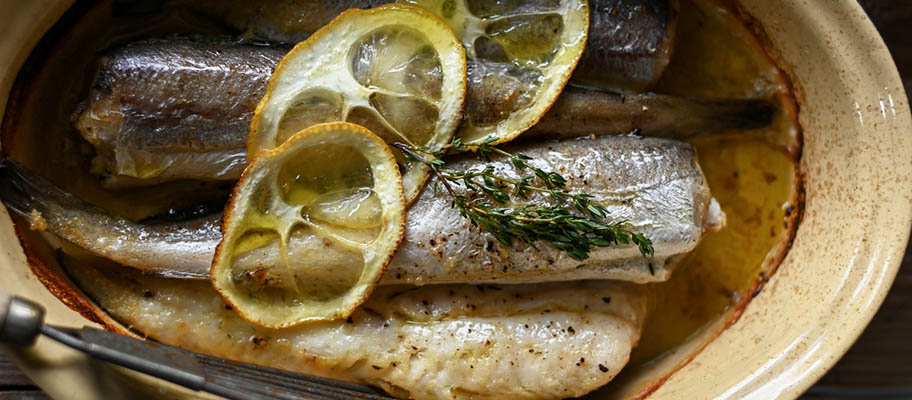 These different species of hake are caught, processed and eaten in different ways. In the US, for example, American Seafoods, which claims to operate the highest-scoring MSC certified sustainable fishery in the world, has introduced large, at-sea frozen processors for hake similar to the sort used for wild Alaska pollock.
This at-sea advantage preserves more freshness, taste, and nutrition. As well as using every part of each fish it catches with nothing going to waste, the company writes on its website: "Our high catch rates, fish utilization, at-sea processing and immediate freezing, state-of-the-art equipment, environmentally friendly ammonia refrigerants, and ultra-efficient logistics all work in concert to produce fish products with the lowest carbon footprint among mainstream protein sources. While land-based animal agriculture is a major user of fresh water, our vessels are outfitted with desalination equipment that is capable of satisfying all our fresh water onboard production needs."
On a much smaller scale, at Newlyn in Cornwall, southwest England, fishermen have worked hard to ensure hake stocks are not depleted. One of the ways the 'family-run' hake fishery guarantees its methods are sustainable is to use a larger mesh size net than is required by law. This means that the smaller and younger hake can swim free, leaving plenty more fish in the sea to reproduce. In the UK, hake is increasingly championed by chefs beyond Cornwall as a sustainably sourced, meaty white fish and is even used in fish and chip shops instead of cod and haddock.

"Hake has increased in popularity and I've definitely seen it on a lot more menus," says seafood chef and MSC ambassador Mitch Tonks, who is based in the southwest of England.

"It's popular because it's a great fish, easy to cook, looks good on the plate and we love white fish in the UK. Hake's juicy, thick white flakes seem to work on all menus from Michelin-starred eateries to a chippy and I think having MSC [certified] status has really helped its growth in popularity. I like to serve a piece on its own with a salsa rossa or a salsa verde on the side and maybe some new potatoes."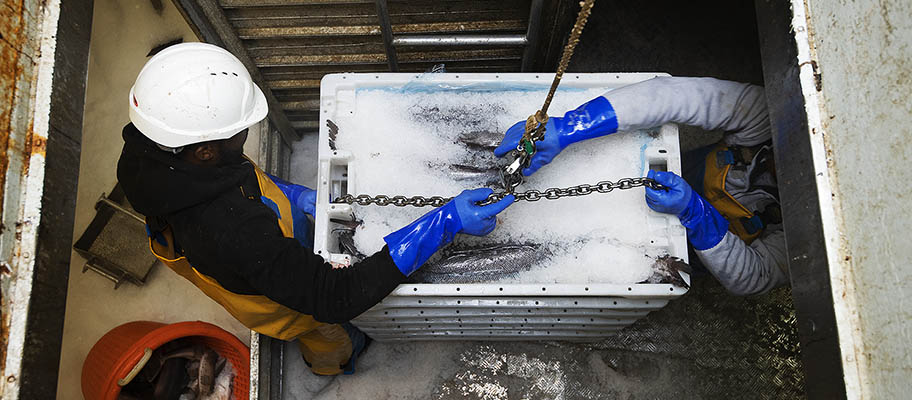 Cornish hake gill net fishery © Nigel Millard/MSC
In South Africa, where hake is a popular and inexpensive everyday fish, the pioneering South African Cape hake fishery will see its fourth MSC recertification in November. It was the first hake fishery in the world to gain MSC certification, which it has held since 2004. By maintaining good practice and remaining certified the fishery has not only safeguarded fish stocks and ensured that natural breeding habitats are protected, it has also secured some 12,000 jobs and increased access to international markets.
"Hake is definitely one of our best loved fishes," says Siba Mtongana, a chef and MSC campaign ambassador in South Africa. "If you think of fish and chips here, then hake always comes to mind first."
She adds: "The great thing about hake is you can either go subtle or you can go all-out bold on the flavour profiles. It's a good fit for a fish pie or a beautifully fragrant grilled hake with red Thai curry sauce. I also love the fact that it has very few bones, which are easily removed, so I don't need to worry when cooking hake for my children."
Nick Wyke is a UK based food writer and journalist who is passionate about local, seasonal and sustainable produce.
Great hake recipes