An eight-fold increase in sales of MSC certified seafood in South Korea during the last three years is being matched by a rapid growth in businesses offering sustainable seafood options.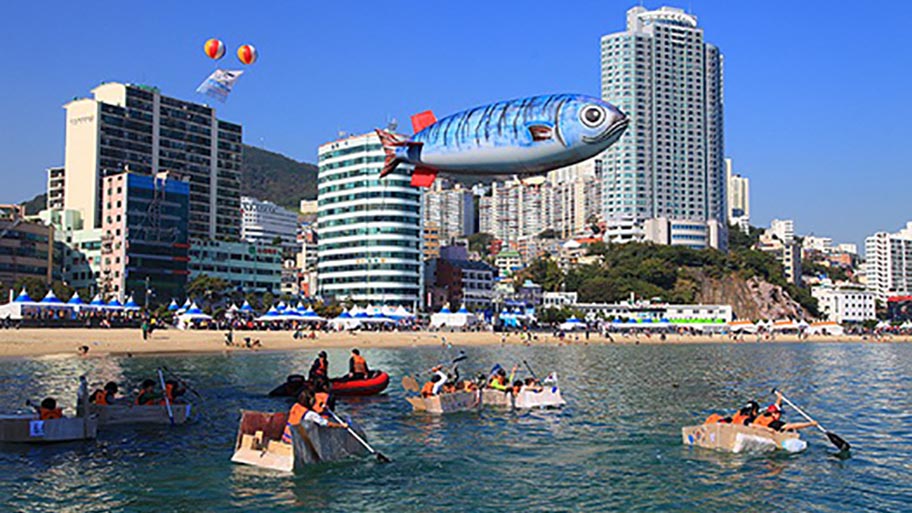 Busan Mackerel Festival © Busan Metropolitan City Seo-gu
Surrounded by ocean on three sides, it's no wonder South Korea ranks among the highest in the world for seafood consumption. From stir fried squid smothered in gochujang-based chili paste (ojingeo chae bokkeum), to plump raw salmon served chilled with fresh vegetables in a rice bowl (hoedeopbap), fish dishes are commonplace throughout the country.
There is even an annual festival dedicated to locally caught mackerel that attracts hundreds of thousands of people. The Busan Mackerel Festival is held on Songdo Beach in Busan, South Korea's second largest city and top holiday spot. Here you can indulge in rich, oily mackerel, put your mackerel knowledge to the test and race paper boats shaped like mackerel.
But seafood-consumer attitudes and behaviour in South Korea (and across Asia) are changing. Research has shown these consumers are increasingly concerned about the impact of pollution and climate change on our oceans. According to the same survey, 61% of consumers believe that to save our oceans we should only consume fish and seafood from sustainable sources.
At the same time, home meal replacements (HMR), or pre-packaged ready-made foods including soup and fried rice, are increasing in popularity among time-poor Korean consumers. So much so, that sales of HMR in South Korea reached 3 trillion won (US$2.47 billion) in 2018, rising from 2.6 trillion won the year before. (Korea Agro-Fisheries & Food Trade Corporation, 2019 - in Korean).
This trend is thought to result from various factors including the ppalli-ppalli (hurry-hurry) culture, which places emphasis on speed. Another contributing factor is the rise in women joining the Korean workforce, increasing the demand for convenient ready-made meals.
Acknowledging and responding to this shift are three of the country's business giants, Dongwon Industries, Homeplus and McDonald's Korea.
First major Korean retailer selling own brand MSC certified products
With 336 supermarkets and 139 hypermarkets, Homeplus is one of the largest supermarket chains in South Korea. In July of last year, Homeplus became the first retailer in the country to gain the right to sell own brand MSC certified products.
"The accelerating destruction of the environment is destroying our children's livelihoods," states a spokesperson from the Homeplus Seafood Team. "The future of our oceans will [only] be as bright as the number of social enterprises that want to offer sustainable seafood products, like Homeplus."
The chain sells three own brand MSC certified products instore and online, including Pacific cod, yellowfin sole and chum salmon sourced from the US. "Consumption patterns are changing in South Korea. We are now seeing more consumers choosing products that reflect their personal values," adds Hong.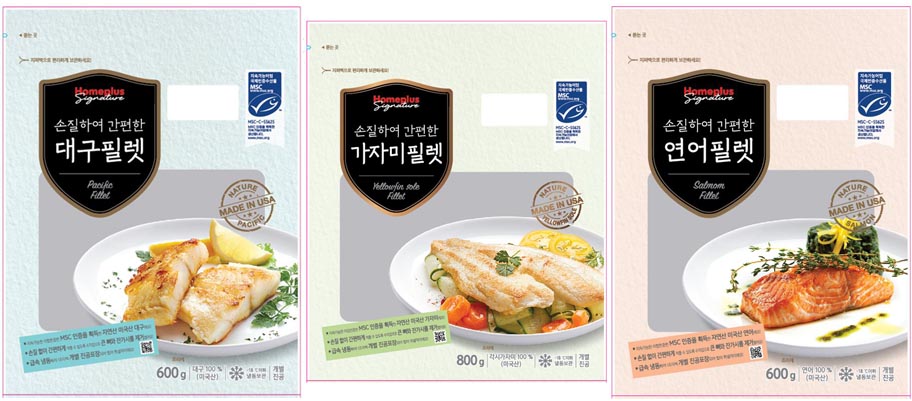 © Homeplus
Korean fishing giant launches sustainable tuna products
Another business making a long-term commitment to sustainability is fishing company
Dongwon Industries
; owner of the only two South Korean fisheries currently MSC certified. It targets yellowfin, bigeye, albacore and skipjack tuna in the Pacific Ocean.
"It makes business sense to sell sustainable products. But sustainability is about much more than business; we believe in leaving our healthy ocean to the next generation," states Jay Lee, Assistant Manager within the Marine Business Unit at Dongwon Industries.
The company have also launched their first MSC certified own brand products after gaining MSC Chain of Custody certification. Shoppers at discount retailers
Emart
and
Lottemart
, now have the option to choose sustainably caught yellowfin and skipjack tuna, which can be traced back to a well-managed, sustainable fishery.
The fishing company is actively responding to the growth of HMR products: "What used to be dominated by sashimi and fresh fish is now threatened by home meal replacement products. So we have launched ready-to-eat products, including octopus on-the-go and smoked salmon steak, that are both convenient and sustainably sourced," adds Lee.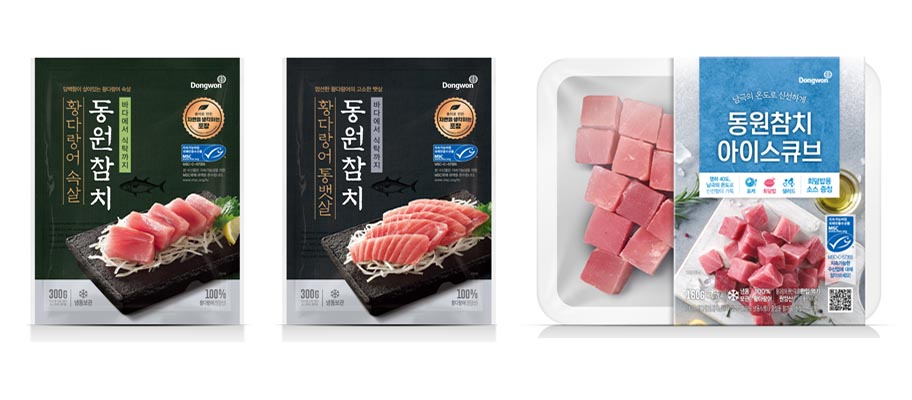 © Dongwon Industries
McDonald's Korea launches MSC-certified Filet-O-Fish
The McDonald's Filet-O-Fish product - a crispy fish patty served with cheese and tartar sauce in a soft steamed bun - is served in McDonald's restaurants worldwide.
On 1 April 2021, McDonald's Korea re-launched their
Filet-O-Fish
product in over 400 stores - this time containing Alaskan pollock, independently certified as sustainable to the
MSC Fisheries Standard
. In doing so, McDonald's became the first quick service restaurant in Korea to sell MSC certified seafood.
"We launched the Fillet-O-Fish burger using sustainable seafood sourced from MSC certified fisheries. As part of our vision, we are committed to protecting oceans and fishery resources for future generations." states the Marketing Team at McDonald's Korea.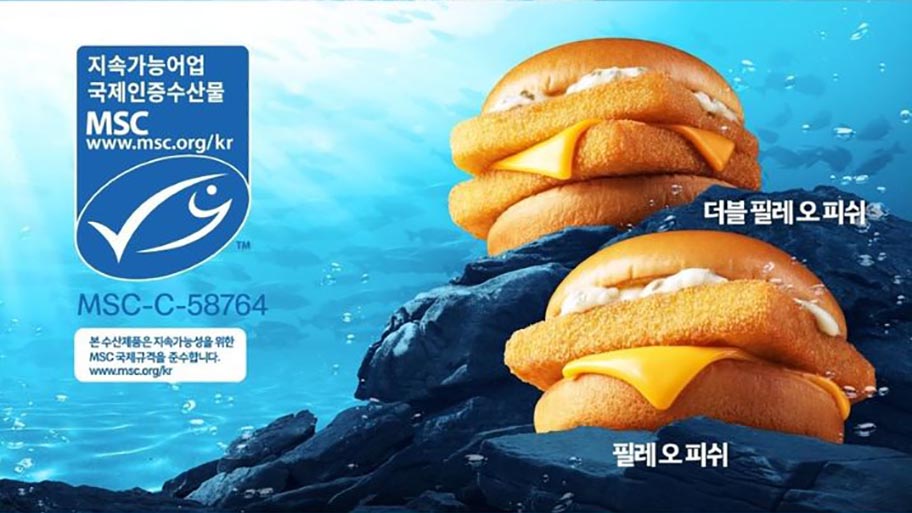 © McDonald's
Sustainable seaweed
Adding to the momentum is the certification in November 2020 of a South Korean seaweed producer, Wando Eco-Friendly Seafood Cooperative (WESC), to the joint Aquaculture Stewardship Council (ASC) – Marine Stewardship Council (MSC) Seaweed Standard.
Products containing two kinds of sustainably sourced seaweed - kelp and hiziki - will soon be exported to retailers in Europe and Taiwan, and be available to Korean consumers in supermarkets such as
Orga Whole Food
and
Lotte Department Store.
Kelp is an important ingredient in Korean, Japanese and Chinese cuisine and is growing in popularity around the world.
It is also extremely versatile
, with other uses including cosmetics, supplements and even biofuel. Hiziki has been a traditional part of East Asian diets for centuries and grows naturally in the waters around Korea, Japan and China. It is high in fibre and minerals such as iron, magnesium and calcium.
"As the ASC-MSC Seaweed Standard is relatively new, it is so important that pioneering companies like WESC lead the way and demonstrate to others the great benefits of certification. This is a great achievement not just by WESC but by the county within which it is located, Wando County in South Jeolla Province, which is an important seafood producer and has fully embraced responsible production in recent years," comments Patricia Bianchi, ASC-MSC Seaweed Account Manager.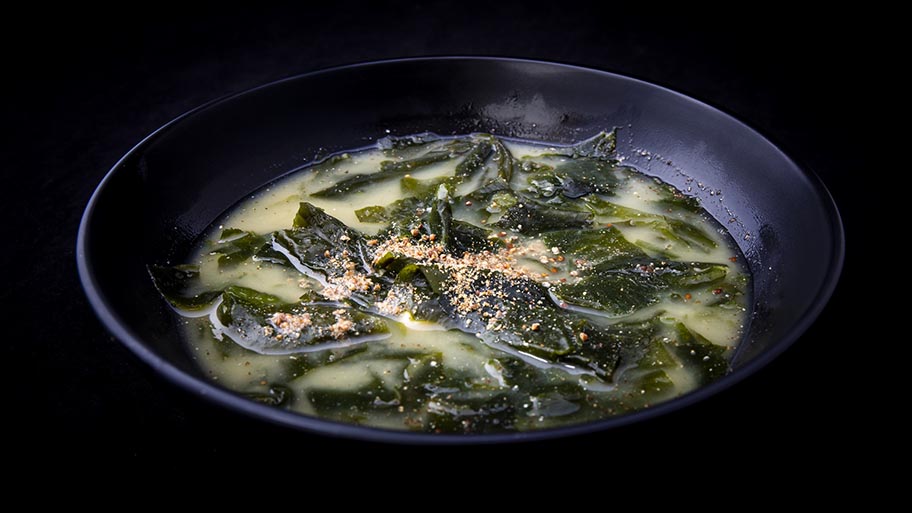 Deulkkae Miyeokguk 들깨미역국 – Korean perilla seafood soup © iStock.com/GEOLEE
Looking to the future
Consumers in South Korea can now choose from more than 30 wild-caught and sustainable MSC labelled products, from pollock to tuna. With momentum like this, the future could be very bright for South Korean seafood.
"The amount of seafood consumed per person in this country is amongst the highest in the world, so the move towards sustainability here is crucial if ocean health is to be protected," says Mark Seo, Program Director of MSC Korea. "Through the collective efforts of all our partners, we will incentivise positive change on the water and safeguard seafood supplies for future generations."