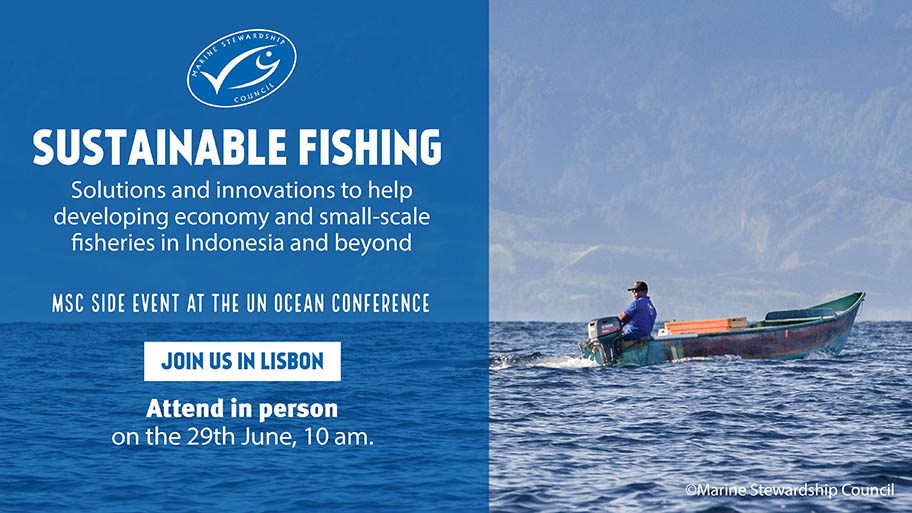 Join the MSC and the Government of Indonesia at the UN Ocean Conference in Lisbon on the 29 June (10am WEST time) for a panel discussion on the role of partnerships, the market and science in overcoming obstacles to sustainable fishing for developing economy and small-scale fisheries.
About the event
Hear from the Director General of Capture Fisheries at the Ministry of Marine Affairs and Fisheries of the Republic of Indonesia, and speakers from the International Institute for Environment and Development (IIED), Bolton Foods and the MSC. Join the discussion and stay for a coffee.

Find out more and register to attend
This event will be held in person only and has limited participation. Please register to confirm your seat.
The problem
Over a third of global fish stocks are overfished. However, there is growing evidence that when fisheries are effectively managed, stocks are consistently above target levels or rebuilding – in other words, fishing sustainably protects the ocean and can support communities and economies dependent on fishing indefinitely.
But small-scale fisheries and developing economies face greater challenges to ensuring their sustainability. They often lack the investment, data, management structures and knowledge to ensure sustainable fishing.
These countries are also disproportionately reliant on fishing for economic growth, livelihoods and food. 54% of the global export value of fish comes from developing economies. They account for most of the world's 39 million wild capture fishing jobs, primarily within small scale fisheries. And fish provides over 50% of the protein intake in many developing economies.
As a result, failure to support these vital fisheries threatens the delivery of multiple SDG (Sustainable Development Goals) targets.
Our panel
Our panellists will share research and expertise on how small-scale and developing world fisheries can be supported to operate sustainably. We will discuss the barriers to sustainable fishing, including science and data gaps and the need for stronger intergovernmental agreements on managing shared fish stocks. Solutions will be explored including; digital tools to help data limited fisheries with monitoring and enforcement; capacity building and resources; partnerships with industry, governments and scientists and how the market can be harnessed to meet growing consumer demand for sustainably-produced seafood products.
Small scale fisheries in Indonesia
We will learn about experiences in Indonesia, the world's second largest fishing nation, where fish provides 54% of animal-based protein in the national diet and yields export earnings of over US$4.8 billion, supplying 7% of the global seafood market.
We will hear from Dr. Ir. Muhammad Zaini Hanafi, M.M , Director General Capture Fisheries, Ministry of Marine Affairs and Fisheries in Indonesia about the Indonesian government's work with the MSC and others to identify challenges facing fisheries, gather better data and develop a fisheries action plan resulting in 50 Fisheries Improvement Projects bringing together stakeholders from industry, NGOs and government to help fisheries move towards better management practices.
Speakers
Dr. Ir. Muhammad Zaini Hanafi, M.M , Director General Capture Fisheries, Ministry of Marine Affairs and Fisheries, Government of Indonesia
Ensuring Indonesia achieves economic resilience for high quality equitable growth is the first goal of Indonesia's national plan. Transitioning to a sustainable and prosperous ocean economy is an essential step in this and is part of the work of the Indonesian Ministry of Marine Affairs and Fisheries (MMAF). Dr Hanafi will discuss Indonesia's work to accelerate the transition to sustainable fishing.
Rupert Howes, Chief Executive, the Marine Stewardship Council
The MSC is an international non-profit that uses its ecolabel and fishery certification programme to contribute to the health of the world's oceans. 19 % of the worlds wild marine catch is engaged with the MSC program. Rupert will speak about the importance of partnerships, and the MSC's accessibility work.
Cristina Pita, Principle researcher and team leader, Shaping Sustainable Markets, the International Institute for Environment and Development
IIED is a policy and action research organisation promoting sustainable development and linking local priorities to global challenges. Cristina is a specialist in fisheries, with a strong focus on small-scale fisheries, sustainable seafood markets, marine resource management, marine governance and coastal cultural heritage.
Luciano Pirovano, Global Sustainable Development Food, Bolton Group
The Food Business Unit is part of Bolton Group, an Italian family-owned multinational that has been producing and distributing a wide range of innovative, sustainable, high-quality fast-moving consumer goods for over 70 years. The Group's portfolio – which features some of the biggest brands in the Food, Home care, Adhesives, Personal care and Cosmetics sectors – includes over 50 successful brands that enter in the homes of 100 million families in more than 150 countries all over the world, every day. Almost 70% of Bolton's sales come from the Food Business Unit and the tuna supply chain. Its goal is to source 100% of its tuna from MSC certified fisheries or credible and comprehensive FIPs by 2024. Luciano Pirovano will discuss how sustainable sourcing drives change throughout supply chains and creates market demand.
Moderator
Ishbel Matheson, Chief Communications Officer, the Marine Stewardship Council
An experienced moderator and former BBC journalist in Africa. Ishbel has also been communications Director for not-for-profits, including Save the Children and the ODI.