Asosiasi Pengelolaan Rajungan Indonesia (APRI) and the Indonesia Madura Island blue swimmer crab trap fishery
Amount awarded: £49,353
This project is supporting the Indonesian Madura Island blue swimming crab fishery enter full MSC assessment by September 2022.
The fishery is based in Madura Island in the East Java Province of Indonesia. It is a vital part of the island's economy. Nearly 250,000 people in Madura rely on the blue swimming crab for their livelihoods, including providing employment to many local women as processors.
Blue swimming crabs are a valuable commodity and were heavily exploited throughout the 1990s. Since 2008, the amount landed, and average size of the crabs have both declined. This is impacting both the local ecosystem and the coastal communities like Madura who rely on the crabs as an important source of income.
The fishery has been in a fishery improvement project (FIP) for several years, led by APRI. With its progress now verified through the In-Transition to MSC Program, it has become eligible for our Transition Assistance Fund.
The fishery is also supported through the Fish for Good program; a four year project supporting more than 25 fisheries across Indonesia, South Africa and Mexico to improve their fishing practices towards sustainability.
Understanding interactions with endangered species
This Ocean Stewardship Funded project is helping the fishery develop and implement a rebuilding plan for the crabs. Since the project began, APRI have worked with local communities on implementing sustainable fishing practices, conducting training on interactions with endangered, threatened and protected species, best practice crab holding facilities and ghost fishing (lost or discarded fishing gear that can trap unwanted marine life).
As part of this, APRI and the local government launched a community-based campaign on ghost gear, providing educational posters on environmental-friendly fishing gear. A prototype of new fishing gear has been developed and is being trialled in Pamekasan - a province in East Java. This involves a trap with escape vents and an improved mesh size to improve the selectivity of catch, enabling juveniles to escape easily.
Data and environmental DNA samples on bycatch and ETP species have been collected to understand any impact on the wider ecosystem. A local research collaboration with Cetacean Sirenian Indonesia (CETASI), has concluded there is no significant overlap between cetacean habitats and blue swimming crab fisheries.
APRI have collected data across 10 existing sites in North Sumatera, Lampung, Cirebon, Pemalang, Pati, Rembang, Gresik, Pamekasan, Pangkajene dan Kepulaunan and Pamandati. This has been developed into an online database which should increase accuracy of recording, alongside an e-logbook developed with MMAF for enumerators.
Government taking vital steps for fishery's sustainability
APRI have initiated several discussions with the Indonesian Ministry of Marine Affairs and Fisheries Agency (MMAF) around harvest strategies and harvest control rules being developed, with control rules already implemented through legislation in East Java Province with stakeholders.
The blue swimming crab Fisheries Management Plan has been updated with improvements made in the fisheries as well. This has been reviewed by MMAF and will be legislated through ministerial regulations.
A new conservation zone has also been developed with local government input, with the final design still in progress. A local protected area is being designated to safeguard the sensitive habitat and nursery grounds of the juvenile blue swimming crabs.
A vessel tracking system (VTS) has been implemented in Rembang, Pamekasan and Pangkajene dan Kepulaunan. This is a GPS system that is installed onto the fishers' boats so their activities can be registered and mapped.
"The Ocean Stewardship Fund will give us an opportunity to keep progressing the sustainability of the blue swimming crab fishery. We will be able to collaborate with scientists to carry out research that will support a healthy ocean."

APRI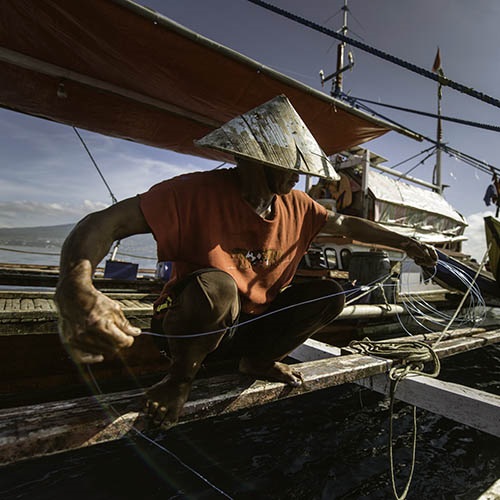 Discover projects supported through the Ocean Stewardship Fund that are helping to grow sustainable fishing worldwide.
The Ocean Stewardship Fund offers grants to both MSC certified sustainable fisheries and improving fisheries.