From thrifty meals to globally inspired salads, MSC Ambassadors and good food champions show you how to make the most of sustainable seafood in the year ahead.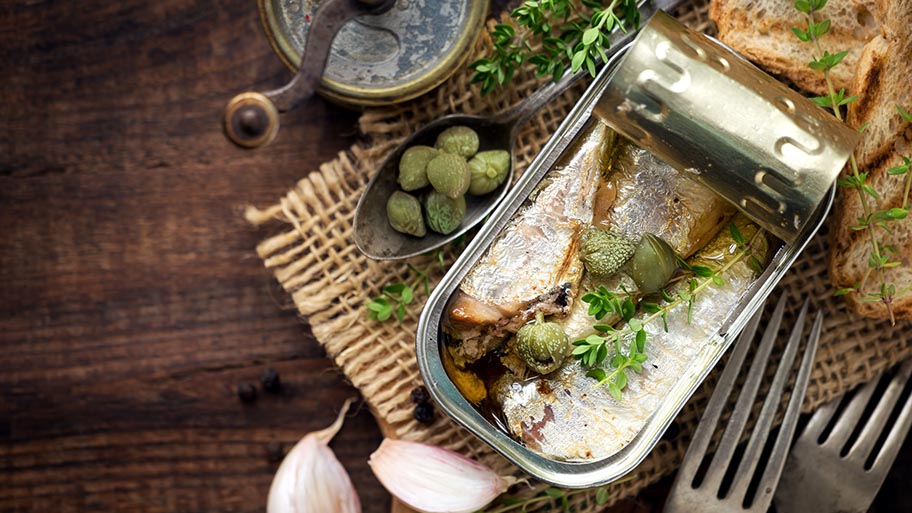 Canny eating: tinned fish with capers and toast © iStock - Kuvona
Being thrifty
Budget-saving hacks and making the most of what you buy are always key trends during tough economic times. Enter canned fish, a 19th-century innovation that's still going strong. It ticks a whole host of boxes including being a good-value protein that's more versatile than fresh fish and often less wasteful, with up to 100 per cent of the catch being eaten.
Tuna is many people's go-to tinned fish but why not cast your net wider and try sardines, mussels, anchovies, clams, cockles or wild Pacific pink and red salmon? They are affordable, often surprisingly delicious and available with the MSC blue label indicating that they have been fished sustainably.
Seafood chef and cookbook author Bart van Olphen is a canned fish evangelist. "Tinned fish is a very efficient product with a long shelf life at a very attractive price. It's a 100 per cent natural product that is mostly wild – it's rare to find farmed fish in a tin. But if you'd like to eat seafood forever then it needs to be sustainably sourced."
"You can create the most amazing things with tinned fish. The key is to add acidity, colour and crispy ingredients to bring out the best in the likes of tuna and salmon."
For a deep umami flavour, Bart recommends sardines and anchovies. "The Portuguese prefer aged sardines which, like good wine, only improve with time. They are great in curries (just add at the last minute), quiches, rice dishes or in a fisherman's huevos rancheros."
Or you could really push the boat out and try an open tinned fish sharing board, inspired by a TikTok date night video that went viral last year.
Worth a mention as an extension of the 'thrifty' trend are air fryers. These energy-light cookers continue to fly off the shelves and are ideal for the likes of Thai crab cakes, garlic shrimp and fish fingers.
Flavour tourism
Dusting themselves down after lockdown, people are getting back on the road and food, more than ever, is a big driver. Consumers are seeking "to expand their palates with unique global fare," says the National Restaurant Association's (NRA) 2023 culinary forecast.
In an age of street food and food courts people love to channel their inner Stanley Tucci and forage for what's tasty, seasonal and local when they're away. Seafood is a big winner in this respect; whether you're bartering with a dayboat fisher for lobster in Skye or up bright and early to see the hulking ranks of tuna at Tokyo's famous fish market followed by super-fresh sushi for breakfast.
"Every chef loves travelling," says Robert Mazur, head chef at The Seafood Bar in London's Soho. "Wherever I go I always explore the culinary scene. I was in Mexico recently and have brought back ideas for mixing chilli with exotic fruits and marinating fresh fish ceviche." He adds that everywhere is connected these days: "We are all watching each other on social media. If I see a dish I like, I might take an element from it and adapt it."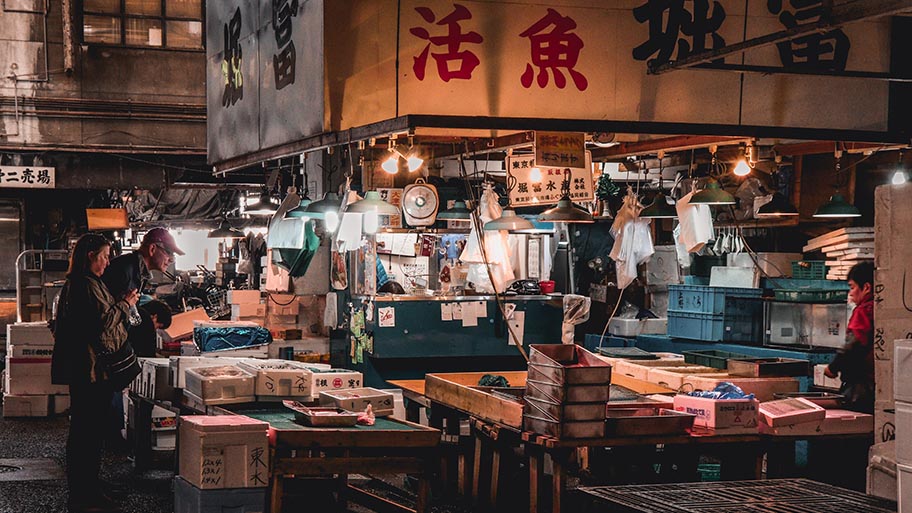 Dawn tourists at Tokyo fish market. © Michael DeMarco on Unsplash
Simple sustainability labelling
With climate change and its impact on biodiversity rarely out of the news, global consumers are increasingly 'voting with their forks' for sustainable seafood. Nearly seven in ten North Americans agree they will need to eat seafood from a sustainable source in order to save the ocean according to a Globescan seafood consumer survey in 2022.
The latest Whole Foods Market trends report adds, "sustainable claims continue to influence what products consumers buy, and many brands are working to develop labelling to signal their sustainability efforts." A whopping 71% of seafood consumers believe retailers' and brands' claims about sustainability and the environment need to be clearly labelled by an independent organisation.
"Fish sustainability is a crucial issue for end consumers, but they want this to be something that translates simply, easily, effectively and that's why the MSC logo is so useful, because everybody recognises the blue tick," says Chris Shearlock, Senior Sustainable Sourcing Manager at food and drinks company, Princes UK.
What's more, recent scientific studies show that seafood is a relatively low emissions protein, making it a climate smart food choice. Shoppers are increasingly wanting to know that the food they're buying has a low environmental impact, and Whole Foods only expects this trend to grow in 2023.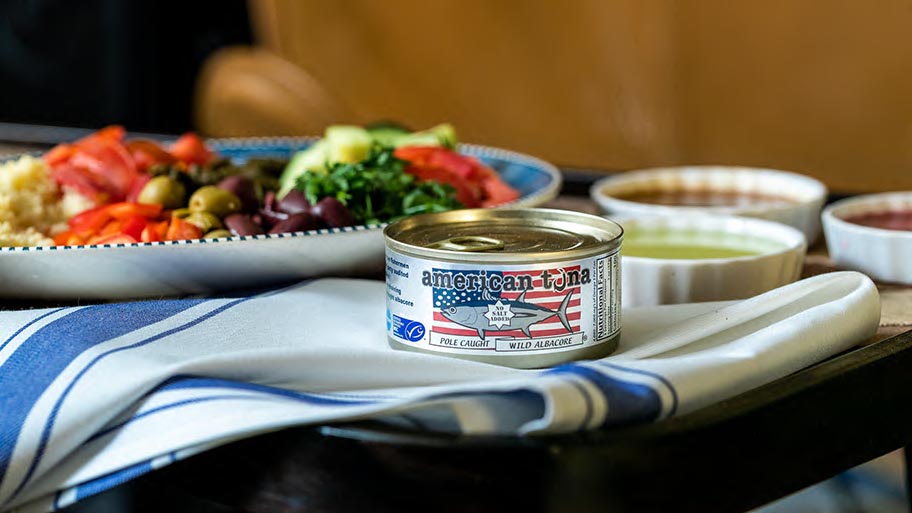 Salad days: healthy food that's good for you and the ocean. © Anthony Rayburn
Brain food
Mintel's Global Food & Drink Trends 2023 highlights foods and drinks that optimise mental performance, while the UK supermarket Waitrose flags up cognitive nutrition as a future trend in its latest Food and Drink Report. As well as blueberries, broccoli, kale, spinach, pumpkin seeds and dark chocolate, these mood and memory boosting ingredients include fatty fish like tuna and salmon. The latter, for example, is a rich source of proteins, essential omega-3 fatty acids, and vitamin B12.
"Seafood is packed with omega-3 fatty acids, which our bodies cannot produce," says nutritionist Annie Siegfried. "This means that we are required to get them from external—preferably natural—food sources. Omega-3 fatty acids play a crucial role in brain function, normal growth, and development, and they benefit the heart in several ways: curbing inflammation in the blood vessels, reducing blood triglycerides, lowering blood pressure, and raising good cholesterol levels."
Globally inspired salads
Gone are the (salad) days of limp lettuce and tasteless tomato. According to the latest NRA report, compiled from a survey of more than 500 food industry professionals, salads that mash up food cultures from around the world are set to soar. Bring on the ginger, black sesame seeds, chipotle cheddar tortilla strips, crispy chow mein noodles, avocado oil and sriracha.
"Yuzu and Honey have been a go-to of mine for years and finishing any seafood salad with them adds a blast of citrus and sweetness to round out the oceanic flavours," says Canadian chef and MSC ambassador Charlotte Langley. "I am also obsessed with adding gochujang (a red chilli paste from Korea) to everything, as it makes an amazing base to a vinaigrette."
American chef Adrienne Cheatham makes an albacore tuna tonnato salad that uses Yukon gold potatoes, capers and sweet relish. "Chefs are very deliberate about sourcing ingredients," she says, "we look for items that deliver peak flavour to help us create a memorable experience for our guests."
Follow the MSC on Instagram for all the latest seafood trends and recipes