"When you choose fish with the MSC blue label, you can be absolutely sure you are making a sustainable choice to have fish on the future, and we all want that – right?"

(United Kingdom)
Ingredients

For the salad
150g MSC canned tuna belly in oil
4 asparagus spears
½ little gem lettuce with leaves separated
4 small new potatoes (Jersey Royals are great when in season)
6 cherry tomatoes, cut as preferred
1 boiled egg, quartered
½ red onion, finely sliced
6 black olives
100ml extra virgin olive oil
½ lemon, juice of
Salt and pepper
For the anchoide
40g MSC certified anchovies
2 egg yolk
2 tbsp balsamic
3 tsp Dijon mustard
1 tbsp capers
200ml vegetable oil or oil from the tuna tin
Small handful chopped parsley
Method
"Ventresca is the name for the belly of the tuna, in my mind it's the best part of the fish to eat, succulent and oily, but in a good healthy way. Spanish and French producers make the best of all and I often treat myself to a large tin that will last me a while. I use the oil from the tin to make an anchoide, a flavoured mayonnaise-type sauce with capers and anchovies which works so well with it. It's a staple in our restaurant the seahorse," Mitch Tonks
Blend all the anchoide ingredients, keeping back the oil, until smooth.

Slowly incorporate the oil until desired consistency as if making a mayonnaise.

Cook the potatoes until just done and the same for the asparagus, let them cool.

Place the lettuce, tomatoes, asparagus, potatoes, red onion and olives in a bowl.

Make a dressing from the olive oil and lemon juice by whisking together. Season.

Assemble on a plate, adding the tuna and quartered eggs then serving with a tablespoon of the anchoide alongside.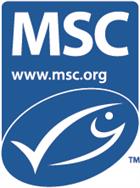 The MSC blue fish ecolabel means that your seafood is certified as sustainable as traceable, so future generations can enjoy the seafood we love.
What is MSC? We are science-based charity working with fisheries, retailers, restaurants and you, the consumer, to recognise and reward sustainable fishing.




Learn more about sustainable fishing
Thank you for subscribing to the newsletter. Look out for delicious sustainable seafood recipes in your inbox soon.
Subscribe to the Simply Seafood Newsletter
YOUR DATA PROTECTION CONSENT