Welcome to our guide to festive seafood. In this first part we explore fish dishes enjoyed at Christmas. Then in part two we look at other festive fish dishes consumed over the winter holiday and New Year celebrations, and in the final part we will hail the seafood dishes that top the bill for the Asian Lunar New Year in February.
The Marine Stewardship Council staff has offices around the globe populated by staff who are passionate about preserving seafood for generations to come. So when we asked the wider MSC team how they celebrate Christmas, naturally, sustainable fish and seafood featured prominently. From warmly spiced cured herring in Denmark to a seven-course seafood feast in east-coast America, hopefully their responses will give you plenty of festive food for thought.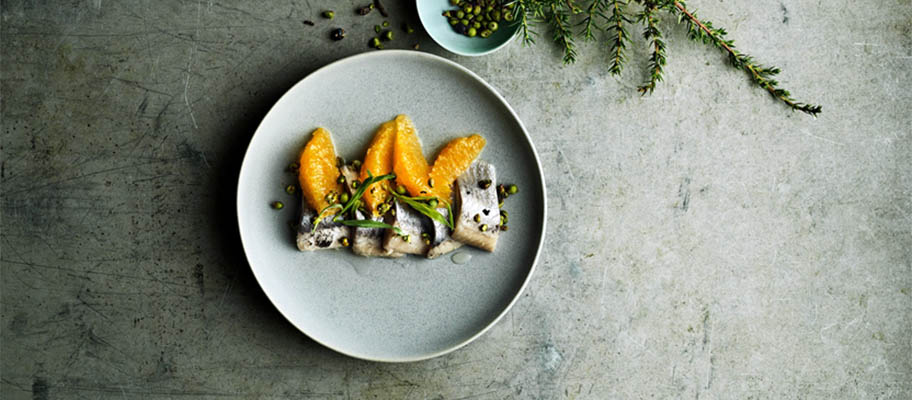 Danish delight: Cured and pickled herring is a Scandinavian favourite. © Roland Persson
Denmark
"It's time for the herring to swim!"
"In Denmark it is a tradition to gather family and friends around the lunch table during the Christmas holiday. Danish lunches can be a drawn-out affair, with a large assortment of Smørrebrød (open-faced rye bread sandwich), with lots of fish and meat, both cold and warm. To the outsider the lunch table might seem like a buffet, where you can pick and choose as you like, but there are certain rules about the order that must be followed. You must always start with the herring and finish with the cheese! In between you can have various warm dishes or cold cuts of meat, but no lunch is complete without herring.
"The cured and pickled herring comes in many varieties; the cured herring can be marinated in vinegar and sugar with onions, dill and pepper or with warm spices like nutmeg and allspice. Another popular variety is cured herring in a curry mayonnaise served with eggs. Herring should be served on dark, rye bread with a generous layer of pork fat or butter and washed down with an akvavit, a distilled spirit most commonly flavoured with caraway. In my family someone will propose a toast by lifting their akvavit and say: "Time for the herring to swim!"
Morten Fristrup, Commercial and Communications Officer Denmark
Herring recipe
Pickled herring is great but have you tried
grilled herring with Indonesian scrambled eggs?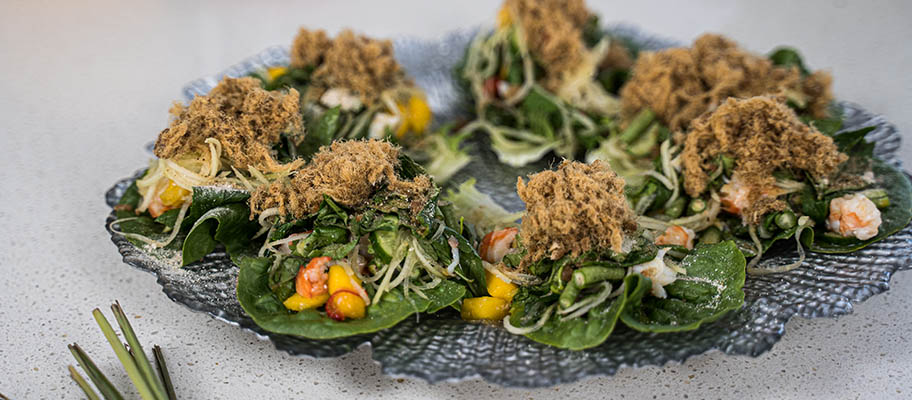 Prawn to be wild: Prawn Thai larb with fresh seasonal mangoes © Larissa Takchi
Australia
The perfect prawn "Ozmas"
"I can't tell you how excited I am for Christmas this year – especially after everything that's happened in 2020. There's nothing quite like an Aussie Christmas. Not everyone can spend this special occasion outdoors on a hot summer's day with a spread of the best seafood in the world. I call it the perfect 'Ozmas'.
"Every year at my Christmas table I always have a big pile of fresh and sustainable Aussie prawns. Australians eat 40% of all prawns over the Christmas period alone and can choose from some brilliantly named sustainably sourced varieties such as banana prawns and wild tiger prawns. In the kitchen, I don't like to waste anything and with such beautiful prawns I plan to use every single part of them.
"This year I'm making a prawn larb, a fresh and fragrant Thai salad served in lettuce cups. It's ideal for entertaining and offers the perfect balance of salty and sweet, sour and spicy. Christmas food prep needn't be stressful – you can create this delicious and impressive dish in less than 30 minutes. And the best part is you can prepare everything before the big day and assemble just before serving."

Larissa Takchi, MasterChef Australia winner and MSC supporter
Prawn recipe
Watch Larissa make prawn larb with fresh seasonal mangoes, kaffir lime leaves and a roasted prawn and lemongrass powder made from ground prawn shells.
Wild prawn larb recipe with Larissa Takchi
Wild prawn larb recipe with Larissa Takchi
USA
Epic fish feasts
"My wife grew up in Rhode Island and, as she says, whether you are of Italian descent or not, growing up in Rhode Island you know your Italian traditions.
"One of many celebrations during the December holidays in the US is the Feast of the Seven Fishes. Inspired by the Roman Catholic practice of not eating meat on the eve of major holidays, it is an Italian-American Christmas Eve tradition that originated in the late 19th century when huge numbers of southern Italians arrived in America.
"Serving seafood on Christmas Eve became a family tradition for me when I was a lobsterman. I had a skipper who instilled the notion that as a fisher of lobsters you only eat lobster on Christmas Eve, the rest of the year you sell your catch. So it became a tradition to take my kids to the lobster wharf on Christmas Eve to buy our dinner. You just can't beat a fresh lobster."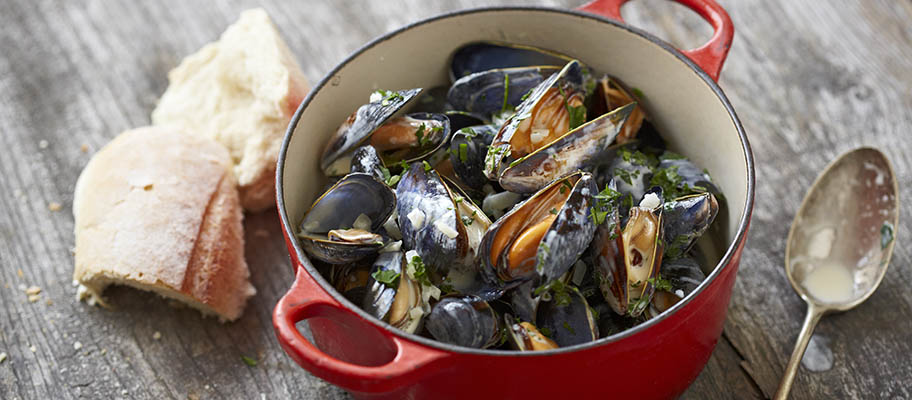 Steamed mussels © C Streeter / MSC
"Fast forward 25 years to a new marriage, and new traditions. One new tradition was inviting neighbours and close friends to Christmas Eve dinner, where we still served lobster. Then my wife suggested we step it up and challenged us to come up with a feast of seven fishes.
"The menu changes every year, but the best one was in 2014, featuring an impressive line-up of shrimp mousse, steamed mussels, salmon wellington, haddock chowder, Maine crab cakes, Coquille Saint Jacques, and lobster steamed in a big cooker on the outside deck. We prepped a couple of the dishes in the afternoon, then alternated cooking and hosting duties in the evening.
"I think the scallops pushed a few folks over the top and they couldn't eat any lobster. Me, I powered through. Oh, and for dessert we had lemon pudding cake made with fresh lemons… to cleanse the palate."
Brian Perkins, Former MSC Americas Regional Director
Recipes
Try our recipes for sustainable moules marinieres or a deliciously creamy seafood chowder made with MSC certified halibut, scallops and cold smoked haddock.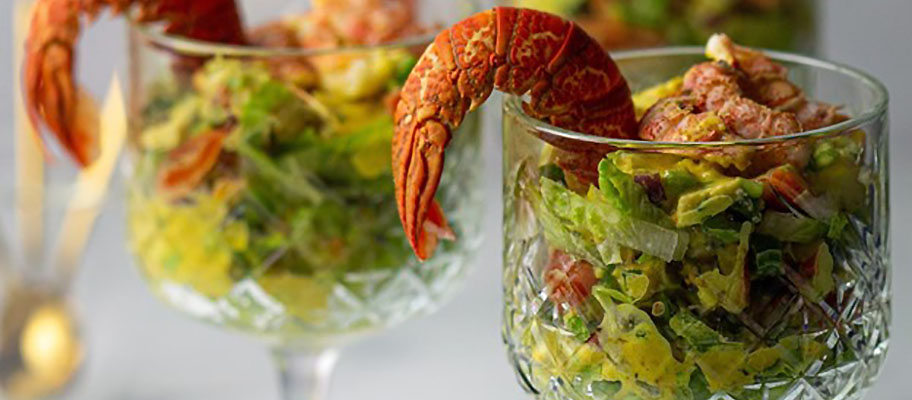 Glass act: Sweet curried lobster salad © Natasha Marais
South Africa
Updating a retro classic
"When I think of Christmas lunch, the first thing that comes to mind is prawn cocktail. Growing up, Christmas was the only time we ever had this. It was really just some prawn or shrimp in a pink sauce (tomato sauce mixed with mayonnaise) served on lettuce, but the glass it was served in made it feel very grand.
"Ever since I've been married the family have come to our house for Christmas lunch. In keeping with the tradition of the prawn cocktail but adding a modern twist, my husband and I have experimented with the recipe quite a bit, and so the sweet curried lobster salad was born. Served on lettuce in a fancy glass, this is the grown-up version of the prawn cocktail and now a Christmas tradition in my home."
Top tip: the salad can be made the night before to save time on Christmas Day, but don't add the tomato or avocado. Refrigerate the salad overnight and add the tomato and avocado just before serving the next day.
Natasha Marais runs the Dine with Tasha blog and is an accountant by day
Lobster recipe
Try Natasha's Sweet curried lobster salad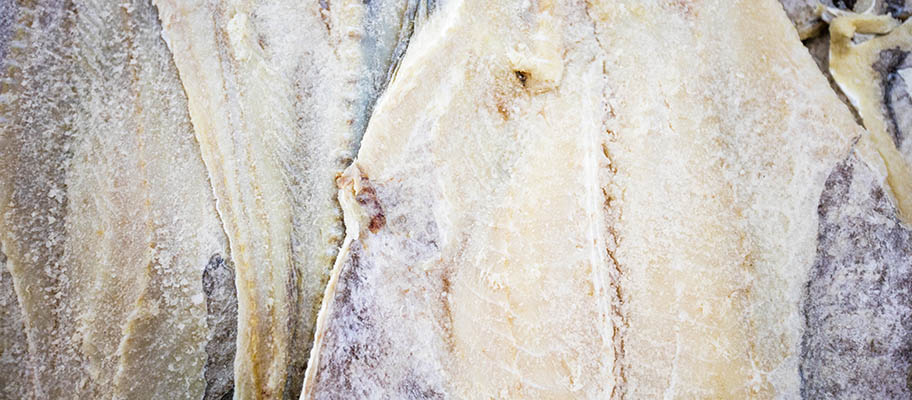 Salted cod (Bacalao) © James Morgan/MSC
Mexico
Keeping up a family tradition
"In Mexico a very traditional dish eaten at Christmas is Bacalao a la Vizcaína or Basque style codfish stew. In my family, we say that if we don't have this dish for dinner on the 24th, it is not Christmas.
"Only one of five aunts prepares it like my grandma used to, preparing more than she should just so it can last for two or three more days. My aunt makes it with sustainable cod, olive oil, garlic, onion, tomato, almonds, bell pepper, olives, cambray potatoes, parsley, chili peppers, cloves, cinnamon, oregano and cane vinegar.
"We know it is a lot of hard work for my aunt, so the whole family is always very thankful for the time and effort she puts into serving this special dish. My cousins and I are aware that sooner or later one of us needs to learn how to prepare it, otherwise we won't have that special festive flavour that our family enjoys so much."
Andrea Talamantes, MSC Marketing and Communications Manager Mexico
Cod recipe
Try our deliciously warming wild cod, chickpea and parsley dish for a tasty alternative to the Basque stew.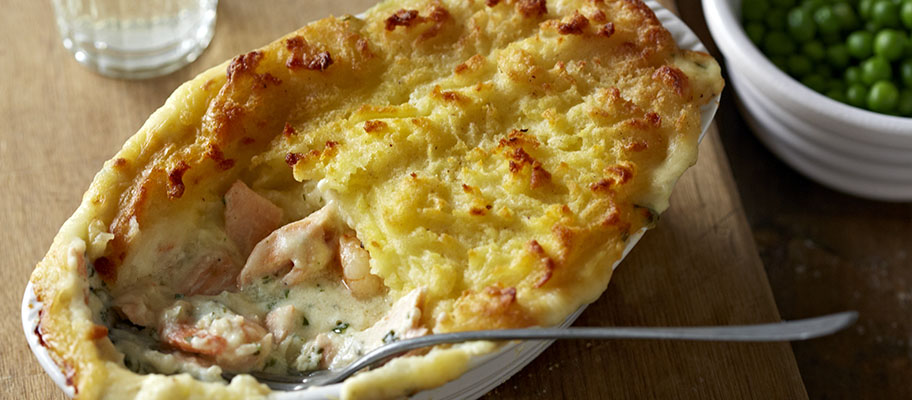 Fish pie © C Streeter / MSC
England
Luxury fish pie

"We go for a traditional, and somewhat Northern influenced Christmas dinner in the Clark household – warm ham and turkey – owing to my Geordie lineage! But what I get really excited about is the Christmas Eve dinner that is almost always either kedgeree or fish pie. As a self-proclaimed fish and seafood enthusiast, these are dishes that I've tried to put my own stamp on over the years; albeit aiming to avoid any pre-Christmas family feuds by going too off piste!

"It's a great meal to set you up for the next day, and a nice precursor to the general meat feast that follows. I like to luxe it up a bit, and often prefer a fish pie that doesn't involve a heavy smoked flavour (controversial, I know!). Hake is brilliant as it keeps its incredible texture and juiciness within the pie. For that extra special touch I like to add scallops, and instead of the regular king or small prawns, brown shrimp for an oomph of flavour."

Top tip: use potted shrimp and the flavour-packed butter from it to make your roux for the bechamel sauce and just sear the fish and scallops before adding to the pie mix before baking.
George Clark, MSC Senior Commercial Manager, UK and Ireland
Fish pie recipe
This Jamie Oliver fish pie recipe using lobster could easily be adapted to use hake, scallops and brown shrimp. But hey, why not get some MSC lobster and really up the ante, it is Christmas after all!


Toasting Christmas with champagne and salmon blinis

"In my house we have established a tradition, loosely based on the fact that across the Channel many Europeans enjoy fish on Christmas Eve, of having a braised Cornish hake supper on the 24th. Some members of the family even prefer it to the Christmas Day feast. But my favourite festive fish has to be the smoked salmon blinis that are passed around with a local English 'champagne' in the hour before we sit down for lunch together. These warmed golden discs topped with cream cheese, sweet, wood-smoked wild Alaskan salmon and dill are the perfect appetisers for the occasion – easily assembled, easily consumed and packing a punch. They are guaranteed to stir your appetite. I do my best to snaffle a couple before getting back to gravy making duty!"

Top tip: blitz the cream cheese with a piece of cooked beetroot (fresh or from a jar) to give a gorgeous deep pink colour to the canape.
Nick Wyke, writer for MSC foodie guides, UK
Smoked salmon recipe
Try these smoked wild salmon crostini with herb cheese and pickled shallots by chef and MSC ambassador Charlotte Langley.


Italy
Lighter fare for Christmas Eve
"In Italy, from north to south, we usually eat a sumptuous family meal on Christmas Day and stick to lighter dishes on Christmas Eve. Fish fits the bill perfectly for the latter as it is considered a more digestible alternative to meat. Among the different types of fish eaten on Christmas Eve, salted codfish is one of the most popular and versatile. It has always been considered a humble food because of its ease of storage, low cost and the fact that it is filling. It can be fried and eaten hot as an appetiser or baked in a rich cream sauce and served with croutons."
Paola Zagami, MSC Digital Communications Manager, Italy
Cod recipe
Try whipped cream of codfish with polenta or potatoes (Crema di baccalà mantecato)
Nick Wyke is a journalist and food writer who is passionate about local, seasonal and sustainable produce.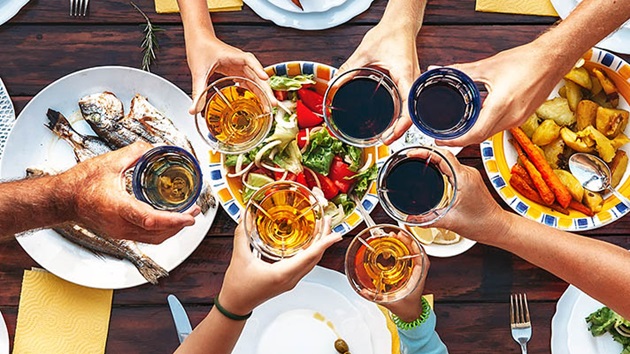 In the second part of our festive food guide, we check out some winter holiday and New Year seafood favourites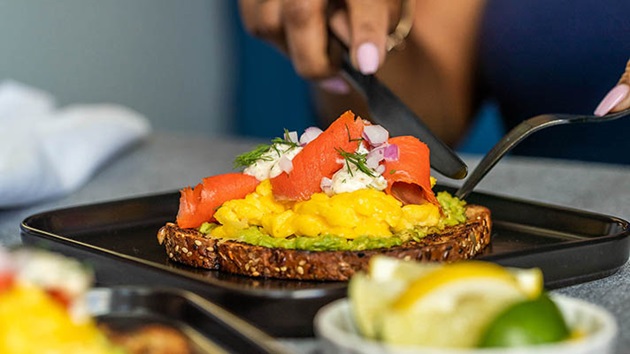 Our in-depth guides on the best ways to cook popular species like tuna, salmon and hake.